As the 1960s dawned, leading customizers like Bill Cushenbery, creator of the Marquis, pushed the styling envelope further than they ever had. They began to rely more on fabrication than repurposed parts from American cars, and, in some cases, bodies were completely fabricated. The resulting custom cars owed little to Detroit styling.
Bill Cushenbery was a Wichita, Kansas native who had moved to Monterey, California, in the late 1950s to be closer to the custom scene. Cushenbery quickly established himself in California with the El Matador, a highly modified 1940 Ford.
Cushenbery created his next major show car for Monterey-native Gene Boucher. Cushenbery dubbed the car the Marquis, and employed radical customizing techniques to create a custom car whose origins were virtually unrecognizable.
Starting with a 1956 Ford Victoria hardtop, Cushenbery sectioned the body six inches and replaced the rear quarter panels and trunklid with 1959 Buick units. The Buick quarters were modified to fit, given flared wheel openings, and topped with small double "V" fins at their trailing edge.
Cushenbery completely fabricated the rear fascia. In it, he placed canted 1959 Pontiac taillights and a grille assembly consisting of flat bars set in metal mesh backing.
The front end was modified drastically. Cushenbery pancaked the hood and gave it a sculpted asymetrical peak that continued into the hand-formed grille opening. The fenders were reworked to accept quad canted Lucas headlights and bullets to act as bumperettes.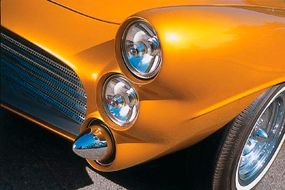 A rolled front pan was molded in, and the grille was made from horizontally mounted flat bars set in metal mesh. In lieu of chrome side trim, Cushen­bery sculpted peaked, arching character lines for the front fenders and doors.
Inside, Cushenbery installed handmade seats and a full-length center console. The gold and white fabric and Naugahyde upholstery was done by Manger's Auto Trim in Castroville, California.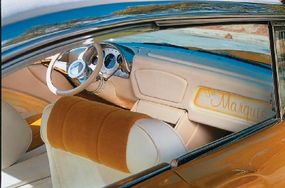 Don Mathews, also of Monterey, applied the Candy Pagan Gold paint, which was offset by a white leatherette padded top, also done by Manger's.
Two and a half years in the works, the Marquis made its debut in 1962. It claimed numerous awards, and was featured in several publications, including Car Craft magazine and Petersen's 20 Top Customs Spotlite book.
Boucher stopped showing the Marquis after about a year, and it remained in his garage for the next 13 years until Cushenbery fan Bud Millard, of Millbrae, California, purchased it.
Bud kept the custom car in storage until the mid 1990s, then began a frame-off restoration. Work stalled and the Marquis sat for a while, but in 2000, Bud finally found the right ­people to complete the restoration.
Bud had some changes made along the way. He had the suspension airbagged and modern luxuries added. Power door openers, a billet steering wheel, digital gauges, and a contemporary sound system replaced the original components.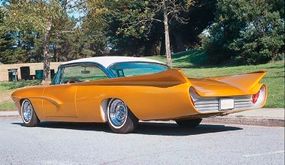 Cushenbery had once confided in Bud that he didn't like the flared rear fenders. So, Bud had the flares removed and the radius of the rear wheel openings reduced. Bill Reasoner applied the new Candy Pagan Gold metalflake paint, Jerry Sahagon refinished the interior, and John Aiello of Acme Builders in Antioch, California, completed the work.
Unfortunately, Bill Cushenbery died in 1998 and was unable to see his creation restored. The Marquis returned to the show circuit in 2000, once again winning awards.
It then spent time at both the Petersen Automotive Museum in Los Angeles and The Harrah Collection's National Automobile Museum in Reno, Nevada, where it appeared as a tribute to one of customizing's most creative builders.