Buick in the 1960s was one of the last marques to enter the muscle car sweepstakes. But patience is a virtue, it's been said. When the "old man's car" finally did flex its muscles, it turned out that there were plenty of them to show off.
­ By "muscle car," we mean the classic conception of the type: an intermediate-class car with a powerful engine and other performance-enhancing gear. In Buick's hands, this meant the Skylark-based Gran Sport. The whole movement had been presaged a few years earlier by a spate of full-size specials with big mills and custom trim.
Buick entered this new market segment in 1962 with the Wildcat. Then came a major turning point in 1964. Pontiac snuck a big-car engine into its mid-size Tempest and created the GTO. Its popularity was nearly instantaneous and just as quickly, the "Goat" had imitators.
That same year, Oldsmobile responded with the 4-4-2, while those who favored a hot small-block engine under the hood could opt for the new Chevrolet Chevelle Malibu Super Sport or Mercury Comet Cyclone.
Meanwhile, at the outer limits of performance, there were marginally street-legal dragstrip specials: Dodges with a new-generation "Hemi" engine and a few Fairlane Thunderbolts with Ford's 427-cid V-8. If Buick was going to jump aboard this new bandwagon, in which of these forms would its entry be?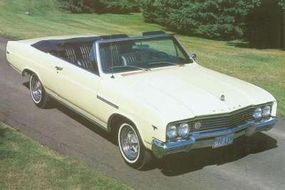 The problem for Buick was made more vexing by General Motors's insistence on a maximum of 400 cid for its A-body intermediates. "Tom Murphy was [General Motors] chairman at the time and he had a lot of ethics," said Cliff Studaker, head of Buick powertrain engineering at the time. "He didn't want to be known as a power freak, as promoting speed."
There was a 300-cid V-8 available for Buick intermediates, but it was far too tame for a muscle car. The next step up was a 401-cid engine, the 325-bhp "Wildcat 445" V-8, but, according to the edict, that was too big.
Buick answered the problem elegantly; the division renamed the 401 a 400, stuffed it into an A-body Skylark, and created the Buick Gran Sport, which arrived as an option package part way through the 1965 model year.
"When design on the Gran Sport was under way, we knew we had a 400-cubic-inch engine in design, but it never would have been ready by 1965," said Nelson Kunz, who worked in Buick engine development for 46 years. "Pontiac had a [389] for their car, but the corporate rule said not more than 400. When Pontiac found out we were putting in a 401, they complained to management. The bosses said, 'This is ridiculous. Let's quit talking about it.' It was closer to 401 than 400, but it was under 401."
For more on the Buick Gran Sport engine, continue on to the next page.
For more information on cars, see:
Classic Cars

Muscle Cars

Consumer Guide New Car Search

Consumer Guide Used Car Search