The 1962-1970 Buick Wildcat name had a certain ring to it. It fairly suggested action -- motion on the open road. Yet it was textbook General Motors -- taking the name from a one-off 1950s show car, applying it to a specific model within an existing series, and later spinning off an entirely new series. So went the saga of the Buick Wildcat.
Buick's first use of the Wildcat name was on three exciting mid-1950s dream cars. Meanwhile, the Century, a "banker's hot rod" model, was revived. Then in 1962, Buick brought out the first production Wildcat, a new factory hot rod designed to compete with the Oldsmobile Starfire and Pontiac Grand Prix.
The first Wildcat was created as a 1953 two-seater show and experimental car. That was followed in 1954 by an all-new sportier one-off, the Wildcat II, and that in turn was followed by another in 1955, the four-passenger Wildcat III.
The three were widely seen by an enthusiastic public, along with other General Motors "dream cars," both at General Motors' touring Motorama shows and through extensive coverage in the press. The idea was to test public reaction to new styling and engineering ideas and, hopefully, to add a bit of luster to GM's production cars.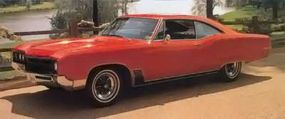 Meanwhile, back in Flint, Buick was honing its marketing strategy for the 1950s. Buick maintained three series at the time: Special, Super, Roadmaster. These monikers, first used in the mid-1930s, would persist for more than two decades, and by the early 1950s were almost as well-known as the Buick name itself.
Boasting straight-eight power and heavy-handed -- but popular -- styling, they sold well enough to keep Buick in fourth place in the production race during most years from 1946-1953.
But by the early 1950s, Buick was becoming more aggressive, much as in the mid-1930s after Harlow Curtice took over the division. His task was to revitalize Buick, which after ranking third in the industry in 1930 had fallen to seventh by 1934.
General Motors reportedly was considering dropping Buick altogether, but Curtice -- who had already turned around General Motors' AC Spark Plug Division and would preside over all of GM by the mid-1950s -- knew that heavy emphasis on product was needed to turn the division around. The first result was the smaller 1934 Series 40, a rousing success that instantly became one of Buick's mainstays. After 1935 it was known as the Special.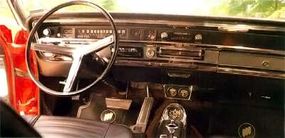 The Limited also did wonders for Buick's image. An upmarket series, it caused consternation within General Motors because it boasted custom coachwork and was sometimes bigger and more powerful than Cadillac -- but at a more attractive price.
Another astute marketing move was the 1936 Century, often referred to as the original "factory hot rod" or "banker's hot rod." The formula, simple but effective, called for combining Buick's lightest bodies with its most powerful engine, then a 320.2-cubic-inch 120-horsepower straight eight. The name, of course, referred to the car's top speed, impressive in its day.
Advertising called the Century a "Headstart to Happiness!" and admonished male readers to "Take your pretty girl . . . and find a motoring thrill that needs no touch of hazard to give it spice." Sexist perhaps, but the Century served as a powerful image-builder for Buick, and it sold well, too, with first year output of almost 26,000 units.
The Century continued its winning ways until World War II intervened, adding "Compound Carburetion" for 165 horsepower and ever sleeker styling. With the return to peace, however, neither the Century nor Limited were listed on the Buick roster.
For more on postwar Buicks, see the next page.
For more information on cars, see:
Classic Cars

Consumer Guide New Car Search

Consumer Guide Used Car Search