The custom car certainly existed before the chopped Mercurys of the 1950s, but it didn't take off as a cultural phenomenon until these 1949-51 Mercurys and other postwar cars hit the market.
Prior to the 1949s, postwar models were just rehashed 1942s. Fenders were separate, hoods were tall and narrow, front grilles were usually upright and rectangular, and rear ends dropped off sharply in a rounded bustle.
Then came April 29, 1948, and the release of the 1949 Mercury. Though it did have a modern envelope body, the design wasn't especially progressive, with its dated two-piece V-shaped windshield, thick slabsided body, vestigial fadeaway front fenders, and rounded, fadeaway rear end.
Other cars from Cadillac, Oldsmobile, Hudson, and even Ford were more modern in design, but it was actually the 1949 Merc's aesthetic quirks that made it so appealing to customizers.
Southern California shops had been customizing 1940-48 Fords and Mercurys for years. The new cars were certainly different, but elements of the old cars remained, making the new Mercs easier to work on than other, more modern new designs.
Plus, the frumpy Mercs seemingly begged for bodywork. These cars presented themselves as blank automotive canvases.
Mercury changed the cars slightly for 1950, then more ­significantly for 1951. The 1950s received a different front-end treatment, new hubcaps, and revised trim all-around.
The 1951s got an even bolder grille, extended rear fenders with upright taillights, and a more modern, reshaped rear window. Coupes were the preferred body style, but a few convertibles and even sedans received the custom treatment.
Magazines such as Hot Rod, Hop Up, and Motor Trend caught on to the growing customizing trend and featured the coolest rods and ­customs. This led to more business for existing shops and the emergence of new ones.
Busi­ness was thriving for the likes of George and Sam Barris, Valley Custom, the Ayala brothers, Joe Bailon, and Gene Winfield, and much of the work was devoted to 1949-51 Mercs.
The first known 1949 Merc to be chopped was Sam Barris' car done at the Barris shop in 1950. Others soon followed and the trend reached its high point with Bob Hirohata's tasteful 1951 done by the Barris shop.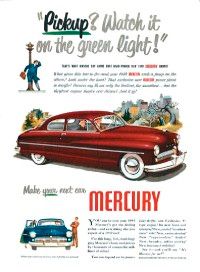 There's no telling exactly how many 1949-51 Mercs were actually chopped and customized in the 1950s. Barris' shop completed maybe 35-50 cars, and the total probably isn't more than a couple hundred. By 1957, the 1949-51 Mercs had largely been upstaged by newer, sleeker Detroit designs that required less work to turn heads.
Just as the 1932 Ford is the quintessential hot rod, the 1949-51 Mercs are the ultimate customs. A few custom car fans recognized that fact as early as the 1970s, and since then, many more custom Mercurys have been built in that classic 1950s style.
But it was those select few Mercury customs built in the early to mid 1950s that ­created an aesthetic all their own. Those Mercurys, built by legendary artisans, propelled the hobby ­forward more than any type of car in the ­history of customizing.