Cadillac's romantic companion make stemmed from the desire of legendary General Motors president Alfred P. Sloan to offer a car for every pocketbook, the basic philosophy that made GM the giant it is today. In the mid-'20s, Sloan detected a price gap between Buick and Cadillac, and assigned the latter to fill it with a second model line.
The division chose the name LaSalle, honoring another French explorer like Cadillac, and introduced its junior series in 1927 on a wheelbase shorter than that of its senior cars. It was all part of the great period of expansion that brought forth a host of such cars to satisfy a market that looked like it would grow forever.
A big attraction of that first LaSalle was elegant body design by Harley Earl, a talented young West Coast designer reared in the "carriage trade," whom Sloan hired specifically to shape the new line. LaSalle amply fulfilled GM's hopes, and launched Earl on an illustrious 30-year career as the company's dean of design. In its first year, LaSalle accounted for 25 percent of Cadillac sales. By 1929, it was outselling its big sister.
In the Depression-racked '30s, LaSalle provided the sales volume that helped Cadillac survive. Though the division's total yearly production rarely exceeded Packard's, LaSalle's share was often substantial and sometimes critical. In rock-bottom 1933, for example, Cadillac's model-year output slid to 6700 units, but LaSalle accounted for fully half of it. In 1937, when Cadillac built 46,000 cars, 32,000 were LaSalles. Even so, LaSalle sales never really satisfied GM managers, who wanted much more.
The 1930 LaSalles, designated Series 340, followed general industry thinking of the times in being longer, heavier, and more expensive than the 1929 offerings. Wheelbase was now 134 inches as all models were put on the "long" chassis, and the original 125-inch "standard" platform was dropped.
As before, the mainstay sellers carried bodies from the Fisher Brothers concern acquired by GM some years earlier. These comprised two coupes, two four-door sedans, a convertible coupe, and a pair of seven-passenger sedans in the $2500-$3000 range. Up in the $2400-$4000 area were six semicustom styles by Fleetwood, another respected GM-acquired coachbuilder: a roadster, two phaetons, a seven-seat touring, and two five-passenger sedans. By comparison, 1930 Cadillac prices started at $3295 and went to more than $10,800.
Not surprisingly for a Cadillac product, LaSalle bowed with a V-8, a 303-cubic-inch unit making close to 80 horsepower. This was bored out for 1928 to 328 cid and 86 bhp. To match the increased size and weight of the 1930 models, the V-8 was enlarged once more, this time to 340 cid, good for 90 bhp.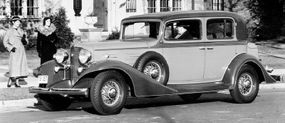 LaSalle styling in 1930 still owed much to Earl's original 1927 concepts: low silhouette, long and sweeping "clamshell" fenders, a tall and round-shouldered radiator inspired by that of the fabled Hispano-Suiza, and two-tone paint, then a novelty. The most obvious change for 1930 was a taller radiator that enhanced an already impressive styling package. The public continued to buy, and LaSalle recorded model-year production of some 15,000. Though that was about 75 percent of Cadillac's volume, it was nonetheless respectable in the aftermath of the Wall Street crash.
For more on defunct American cars, see: