"TV" Tommy Ivo, creator of the custom hot rod Ivo T, earned his nickname as a child actor in the 1940s and 1950s, appearing in films and on the Mickey Mouse Club. When he turned 16 in 1952, he startled the local Burbank, California, Buick dealer by plunking down cash to buy a new car. He promptly went to the local strip to see what it could do.
The Buick proved to be extremely slow, but the 1955 Century he bought three years later was very quick. Tommy Ivo won his first time out in the '55, setting an A/Stock Automatic record at Pomona. Winning whetted Ivo's appetite to go faster, and he soon set out to put a hopped-up engine in the lightest car he could find.
Inspired by Norm Grabowski's ­recently built T-bucket, Tommy built a T-bucket of his own using a desert-derelict 1925 T touring body that he shortened to become a two-door. He shortened a Model A truck bed even more to house the battery and fuel tank for his Ivo T hot rod.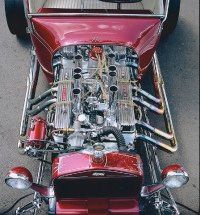 With the help of noted Buick engine builder Max Balchowsky, Tommy Ivo assembled and tuned the engine, a 402-cid Buick nailhead V-8 first equipped with four twos, then with Hilborn fuel injection. Tony Nancy, another hot rod legend, did the upholstery.
A feature in the August 1957 issue of Hot Rod revealed that this combination of light weight and more-than-ample torque netted 21 trophies in as many trips to the strip. The little Ivo T was exceptionally quick in the quarter-mile, running E.T.s of just under 11 seconds with top-end speeds of 119 mph.
It was also beauti­ful and found its way into several TV shows and movies. Tommy Ivo sold the hot rod after only a year and went on to become one of drag racing's first touring professionals and a major contender in Top Fuel drag racing.
After its retirement from drag racing, Ivo's T was reworked a couple of times; once by George Barris, who added square headlights. It served as a 1960s show car, and, along with Grabowski's T, as the inspirational prototype for thousands of fiberglass "Fad Ts."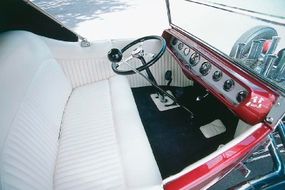 After sitting untouched for years, Jack Rosen, who had received the Ivo T from his father Hy, had it restored it to its original configuration. Ron Jones performed the restoration, doing justice to the quality work a young speed-obsessed actor did all those years ago.