Jake's Coupe, along with Pete Chapouris' The Califor­nia Kid, has a secure place as one of history's greatest hot rods. Jim Jacobs' 1934 Ford three-window coupe simply possesses all the right characteristics.
Hot Rod Image Gallery
The hot rod is owner-built with impeccable craftsmanship. It's made of real Ford steel. It displays a reverence for hot rod traditions while remaining totally original and can't be mistaken for any other rod. It's visually arresting, loud, and fast. And, best of all, it's been driven -- a lot.
Jim "Jake" Jacobs started fiddling with old Fords when he ­wasn't even old enough to drive. He was a founding member of the Early Times Car Club in 1964, and in 1966 he started working in Ed Roth's shop. He joined the Rod & Custom magazine staff in 1970 at the request of editor Bud Bryan.
Jake built this hot rod in 1973. Like Pete Chapouris, Jake bucked early 1970s resto rod trends by chopping his coupe's top (his first ever chop). The narrowed 1937 Ford truck grille was also an unusual addition.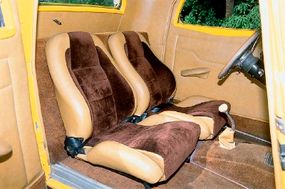 Unlike many 1970s hot rods, Jake's Coupelooks as stylish now as it did in 1973.
He initially installed orange Kelsey-Hayes wire wheels and a torquey 364-cid 1957 Buick nailhead V-8. That nailhead had been residing in the NieKamp 1929 roadster when Jake bought it in 1969.
Soon after Jake's Coupe was finished, Jake teamed up with Pete Chapouris to open Pete and Jake's Hot Rod Parts. Pet and Jake's coupes shared unofficial mascot duties for the shop for more than a decade.
The coupes racked up thousands of miles when the duo attended the NSRA Street Rod Nationals and other events all over the country. What better marketing is there for a rod shop?
While many hot rods built in the 1970s look dated today, Jake's Coupe looks as stylish now as it did when he first finished it.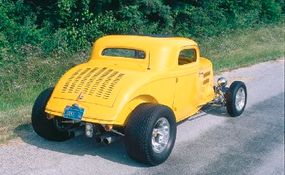 Jake's Coupe distinctive look is due in part to the largeE.T. III wheels in back and the smaller Real Wheels in front.
The coupe has seen a couple of engine swaps and several wheel and tire changes over the years. For now, it runs a Chevy 350 that Jake installed in the 1980s, as well as 16 x 10 E.T. III wheels in back and 15 x 5-1/2 Real Wheels up front.
In 1999, Jerry Slover, the current owner of Pete and Jake's Hot Rod Parts, talked Jake into selling him the coupe so it could be ­reunited with The California Kid. Jerry has no plans of splitting them up again.
To learn more about custom cars and hot rods, see: