In 1955, 15-year-old Clarence "Chili" Catallo paid $75 for a 1932 Ford coupe that became the Little Deuce Coupe -- his ­ticket to the hot rodding scene he so loved.
Scraping together pennies by working in his parents' market in Taylor, Michigan, Chili had Bill Wanderer build and install a 344-cid Olds V-8. Chili rounded out the driveline with Olds parts, including a Hydra-Matic transmission and a chromed 1955 rear end.
Local customizers Mike and Larry Alexander did the bodywork. The "A Brothers" sectioned and channeled the body, added a quad-headlight fiberglass nose, made a special rolled rear pan, altered the frame, and covered the cobbled frame rails with polished-aluminum fins. Topped with a blue-lacquer paint job, Chili dubbed the hot rod Silver Sapphire.
Chili drag raced the coupe, turning 12.9 seconds at 112 mph in the quarter-mile, then hauled it out west when he turned 18. He ­landed a job sweeping floors at George Barris' shop in Lynwood, California, and traded his labor to have the crew there tear down the hot rod, chop the top, and repaint it.
By 1961, the car was an all-out show rod. It now featured a 6-71 blower, three Stromberg 97s carbs, chrome-reversed wheels, a padded and tufted Naugahyde roof insert, and scads of chrome plating.
By campaigning the coupe on the West Coast show circuit, Chili caught the attention of Hot Rod magazine, and the car appeared on the July 1961 cover. Its greatest fame, however, came in 1963, when it appeared on the cover of The Beach Boys' album Little Deuce Coupe.
Chili sold the hot rod, now known as the Little Deuce Coupe at the height of its popularity. It went through three owners by 1963 when Ray Woloszak bought it. Ray changed the car over the years, installing a Chrysler 440-cid engine, and took it on the auto-show circuit.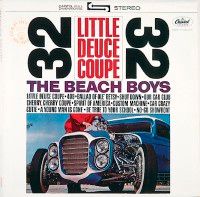 When Chili's son, Curt, saw it at a Detroit custom show in 1997, he convinced Chili to buy it back. Now back in Michigan, Chili and Curt began restoring the coupe to the way it looked in the Hot Rod magazine shoot that was used for the Beach Boys album cover.
Unfortunately, Chili passed away before the hot rod was ready to return to the limelight. Curt forged ahead, however, enlisting the help of many of the men who originally worked on the car, as well as General Motors.
Recognizing the blown Olds engine as a significant part of the company's history, GM helped Curt with the engine and drive­train rebuild. The restored car appeared at the Pebble Beach Concours d'Elegance in 2001 and at the 50th Detroit Autorama in 2002.
After many changes, the Little Deuce Coupe now looks like it did when The Beach Boys made it one of the most famous cars in the history of hot rodding.