Since 1950, the Pebble Beach Concours d'Elegance has been the ultimate car show. Steeped in tradition, it is an exclusive and elegant celebration of the history of the automobile. To be invited to display a car at Pebble Beach is an incredible honor. To win your class is an affirmation that your car is the best of its breed.
Held each August at the Lodge on the 18th green at Pebble Beach, which overlooks Monterey Bay, only 175 cars are invited to participate each year. Anyone willing to pay the triple-digit admission fee is welcome to attend.
Known primarily as the purview of blue bloods and their vintage Ferraris, Duesenbergs, and coachbuilt classics, hot rods had never appeared "on the lawn" prior to 1997. In fact, the rebellious hot rod spirit was somewhat at odds with the staid atmosphere of such an elite car show.
Initiated by longtime Pebble Beach competitor Bruce Meyer, a group of crossover automotive enthusiasts changed all that. Meyer, along with Pebble Beach judges Ken Gross, Gordon Apker, and Glenn Mounger, as well as regular competitors Kirk White and Dennis Varni, appealed to event organizers Jules Heumann and the late Lorin Tryon to include a class for hot rods. After years of asking, their wish was finally granted with the introduction of the Historic Hot Rod class in 1997.
Gross established the class criteria and invited the first hot rod competitors. He chose nine fenderless roadsters from the 1940s and '50s, all of which had pedigrees as either street/show or street/lakes race cars. Gross, Ray Brock, Alex Xydias, and Don Montgomery were the judges at that first event.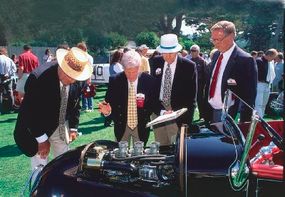 The winner was Bruce Meyer with his restored Doane Spencer Deuce, which also won the Ford-sponsored Dean Batchelor award for the most historically significant hot rod. Kirk White took second with his '32 Ford lakes racer originally owned by Ray Brown, and third place went to Don Orosco for his Tony LaMasa Deuce roadster.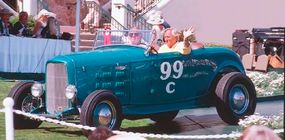 When the winners drove across the ramp to accept their awards, the standing ovation they received confirmed that hot rods belonged at Pebble Beach.
A hot rod or custom class has been part of the Concours every other year since the 1997 event. Don Orosco won in '99 with his Dick Flint '29 Model A roadster, then took first in 2001 with the Alex Xydias So-Cal Coupe. Brock Yates won in 2003 with the ex-Duffy Livingston Eliminator track roadster/sports racing car.
The 2005 event marked the first-ever custom car class. Given the ­num­ber of legend­ary rods and customs being restored today, they should be well-represented at Pebble Beach for years to come.