Bill Hook started building Wetzel's Roadster, a 1932 Ford roadster, in the late 1940s, enlisting the famous Valley Custom shop in Burbank, California, to further modify the already channeled body. Valley Custom smoothed the rear wheel arches, added a rolled rear pan, shaved the door handles, and moved the gas filler to the driver-side rear quarter panel.
The shop also installed a DuVall windshield and added a Stewart Warner Hollywood instrument cluster. A ­second Hollywood instrument panel, minus the instruments, was added to serve as the glovebox door. Hook sold the Deuce unfinished in 1952 to Dr. Leland Wetzel, who had friend Leonard Carr build the engine and finish the car.
Wetzel spared no expense in building the Ford flathead V-8, equipping it with Evans heads and intake manifold. When complete, he drove the Deuce from his Springfield, Missouri, home to the Bonne­ville Speed Week and Pikes Peak Hill Climb with his wife, Bertha, to watch the action. Bertha chronicled that trip in the December 1952 Hot Rod, noting the varied weather conditions they endured in the roadster.
Dr. Wetzel owned the Deuce roadster for 43 years until Kurt McCormick, a noted Barris custom collector from nearby Web­ster Groves, Missouri, convinced him to sell it in 1995. When Kurt picked up the car, he reported that it was stone-cold original to the photos taken in 1952.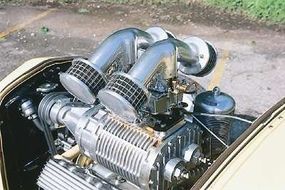 Kurt had Dave Conrad of Kirkwood, Missouri, perform the complete restoration and change the engine in the process. Kurt opted for another period engine he had on hand, the 1954 Cadillac 331-cid V-8 from the Barris-built Paris­ienne custom.
Kurt had the engine machine work done by Ronnie Simon of St. Louis, then installed the SCoT blower along with other period-correct components. Kurt says the Cad V-8 fit without drilling any new holes into the frame.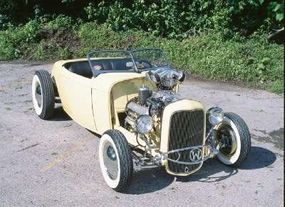 Kurt maintained the front nerf bar with encircled "W" that Dr. Wetzel had made. With the exception of the new engine and front tires, the car now appears just as it did in 1952.