The 1960 MGA 1600 Roadster collectible auto met a need that had been identified much earlier.
The folks at MG were thinking about a replacement for the famed T-Series as early as 1952. In fact, a prototype -- EX175 -- was completed that year, only to be mothballed by BMC corporate managers who allocated production funds to the Austin-Healey instead. MG had to bide its time with a facelifted TF model.
MG finally got to release its new car in September 1955. It was so revolutionary -- envelope-bodied, low, and sleek -- that MG started all over at the beginning of the alphabet and named it the MGA. It was a pure two-seater sports car with bucket seats and an instrument panel boasting a huge speedometer and tach.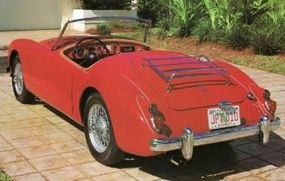 While the 1952 prototype carried TD running gear, MG had become part of British Motor Corporation by the time the project was revived in 1954, so the MGA was reconfigured around newly developed "corporate" hardware.
It thus became the first MG sports car to employ BMC's "B-Series" four-cylinder engine, four-speed gearbox, and a new type of hypoid-bevel rear axle. The powerplant chosen was the 1,489-cc, 72-bhp version, just enough for a top speed at the magic "ton" (100 mph).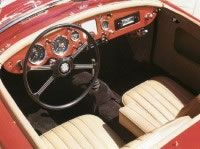 Along the way, the MGA was treated to gradual but perceptible improvements in displacement, power, and equipment. The MGA 1600 debuted in 1959 with its ohv four boosted to 1,588 cc and 80 bhp, and Lockheed front disc brakes were made standard.
From the exterior, the 1600 was distinguished by its "two-tier" taillights and discreet "1600" badging on the decklid and next to the air vents near the cowl. As with all MGAs, the grille was a lowered and laid-back version of the "classic" grille seen on the old T-Series MG. Exterior door handles were not provided; owners had to reach inside to unlatch the door.
While the 1600 wasn't particularly powerful -- 0-60 in 14.2 seconds and 101 mph all out -- it felt fast, and the handling was superb.