Humble beginnings have never been an absolute impediment to the creation of great cars. Automotive history is richly endowed with admired vehicles pulled together with ingenious use of existing parts and crafty stretching of scarce development funds. The 1953 Triumph TR2 Roadster can certainly be counted among that number.
The impetus for the TR came from Sir John Black, managing director of the Standard Motor Company Ltd. and head of Triumph Motor Company, Ltd., which he bought in late 1944.
Black had watched somewhat enviously as Jaguar sprouted into prominence with sporting cars built around Standard-supplied engines. The well-received arrival of the Jaguar XK-120 in 1948 precluded Black from building a sports car of that size and type. But between the XK and the tiny MG T-series there existed a price gap that Black and company might exploit.
Black decided stocks of unused frames from the prewar-vintage Standard Flying Nine should serve as the new car's basis. For power, a 2.1-liter four from the Standard Vanguard (and Ferguson tractors, no less) was enlisted. The Triumph Mayflower sedan was tapped for a coil-spring independent front suspension and a rear axle.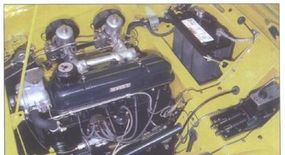 All, of course, were modified and improved. For instance, engine displacement was scaled back to 2.0 liters -- for racing-class purposes -- twin SU carburetors were installed, and compression was increased. The result was 90 horsepower, enough to make production TR2s legitimate 100-mph cars.
Body engineer Walter Belgrove made the most of a miserly tooling budget to create a purposeful body design. Complex curves were achieved by welding panels together rather than using intricate -- and expensive -- stampings. A simple mesh in a deep hole served as the grille, and fixed "frog-eye" headlamp pods were used in place of the retractable units Belgrove had first considered.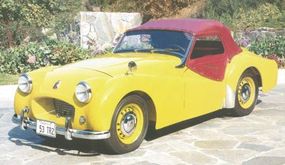 Having first appeared in prototype form at the Earls Court Motor Show in autumn 1952, the Triumph TR2 entered series production in August 1953. Selling for about $2,400 in the U.S., it quickly won favor for its power and made winners of those who campaigned it in Sports Car Club of America events. By the time it gave way to a more powerful and facelifted TR3 in mid 1955, 8,628 had been manufactured.
Just 248 Triumph TR2 Roadsters left the factory during 1953, and 198 of those went for export. All were of the "long door" variety so named because the doors extended to the very edge of the car. (A shorter door style entered production in the fall of 1954.)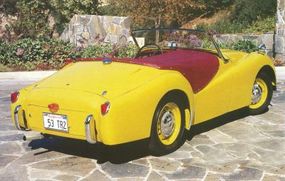 The TR2 pictured here has the distinction of being a long-door car, but that's not all that makes it stand out. It features an aluminum hood and spare-tire carrier cover, used only on the first 500 TR2s. It is one of just 40 with vibrant Olive Yellow paint. It also has a four-speed transmission, blackberry leather upholstery, and a complete tool kit.