By 1955, the MG-TF had become rather dated. MG enthusiasts the world over clamored for something more modern and faster to keep pace with the new Triumph TR-2. The 1955-1962 MGA was Abingdon's answer.
The last of the legendary MG T-series sports cars, the TF Midget, went out of production in March 1955. Dealers around the world and most of The Faithful, as MG enthusiasts were known on every continent, breathed a sigh of relief.
TF sales had been slipping and competition buffs from within the MG fraternity were besieging the Abingdon factory for an up-to-date streamlined sports car that could best its rivals in stock trim.
Meanwhile at Abingdon, Lt. Col. John Thornley, OBE, who had begun his long career with MG in 1931, was installed as General Manager in 1952. He spent most of his time doing a balancing act with the board of directors of British Motors Corporation, which had been formed three years earlier when the Nuffield Organization, of which MG was a part, and the Austin Company merged.
The February 1952 union came as a surprise to sports car aficionados everywhere. On the one side of the merger was Lord Nuffield, nee William Morris, who began his automotive career in Oxford in 1903 and whose Morris Garage spawned the first MG cars in the early 1920s under Cecil Kimber; on the other side stood Sir Herbert Austin. The two had been hard-nosed competitors for decades.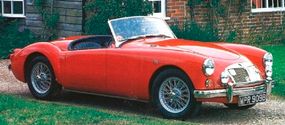 The MGA 1600 (Mark I) was in production fromMay 1959 to April 1961; this is a 1959 model.
The MG Faithful were soon thoroughly convinced that the Austin people had done in the Abingdon works, and indeed MG's design office was transferred to Austin's Central Design Office in Cowley. The MG engineering and design staff under Sydney Enever had been gearing up to produce a low, streamlined MG-TD replacement ever since George Phillips captured second place in the 1.5-liter class in the 1950 Le Mans.
Phillips' mount, a highly tuned TC Midget special, had been fitted with an air-cheating envelope body. That coupe was followed by another car built for Phillips for the 1951 Le Mans. It likewise sported a specially designed body mounted on a TD Mark II chassis.
Inspired by Goldie Gardner's EX135, a pre-war MG experimental streamliner, the 1951 racer had a top speed of nearly 120 mph. Unfortunately, the true potential of the car was not realized as engine trouble forced an early retirement from the race.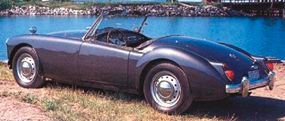 This 1959 MGA featured disc wheels, Lucas foglights, stone guards, wind wings, and sun visors.
Thornley, Syd Enever, and others were nonetheless impressed with the greatly improved performance, which was due largely to better aerodynamics, and whipped up a proposed 1952 TD replacement along the lines of the Le Mans special. Because the narrow frame of the T-series chassis precluded a low seating position, Enever developed a totally new frame with the longitudinal rails splayed outward to a width of approximately 45 inches.
In fact, it was quite similar to the frame of EX179, a super-aerodynamic prototype. In it, Capt. George Eyston and Ken Miles (well known throughout the MG fraternity as a top sports car competitor) went on to take seven International Class F records and 28 American Class F records on the Bonneville Salt Flats in August 1954, among them 120.74 mph for 12 hours. All that from 81 horsepower and 1466cc.
With different gearing and a 97.5-horsepower "sprint" version of the same engine, EX179 covered the flying ten mile run at 153.69 mph, knocking down international and American records in the process. As a bonus, EX179's independent front suspension, which utilized many TF components, was noted for good handling.
For more on the development of the 1955 MGA, see the next page.
For more information on cars, see:
Classic Cars

Consumer Guide New Car Search

Consumer Guide Used Car Search