Soon after two English automaking rivals joined forces to become the British Motor Corporation (BMC) in the early 1950s, the combine released a new type of small sedan -- the 1953-1958 Magnette. Its radiator badge said MG, but its design and engineering had other influences, too.
It didn't look like an MG, somehow. In the early 1950s, the British were used to T-Series sports cars and sweet little Y-Type saloons (sedans). MGs were craggy and old-fashioned, with flapping fenders, headlamps that stuck out in the breeze, and suspensions hard enough to rattle your teeth.
But the new Magnette ZA of 1953 wasn't like that at all. It looked smooth, it rode well, it went around corners without a skip, and it had comfortable space for four people. Strange.
But only until we learned who had designed it. Not the diehards from Abingdon (MG fanatics didn't like steel roofs anyway), nor the Old Guard at Morris Motors, either. It was a new man, Gerald Palmer.
Having created the stylish 1947 Jowett Javelin saloon, complete with wind-cheating body and flat-four engine, Palmer had been tempted back to Morris as chief designer for the entire MG and Riley ranges. "All I had to do," Palmer once said, "was to produce new cars. There was no product planning, nothing. All I had to do was to come up with ideas, which I hoped would be accepted. Luckily they were."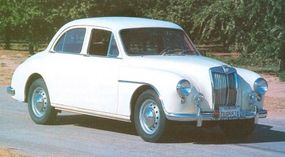 Though conceived at Morris, the ZA Magnette was one of the first cars introduced by BMC, born on March 31,1952, with the long-debated "marriage" of two longtime rivals.
On the one side was Austin Motors, established in 1906 at Long-bridge, near Birmingham in the British Midlands. Its founder was a farmer's son, Herbert Austin, later Sir Herbert and (from 1936) Lord Austin in recognition of his contributions to British industry.
One of his company's biggest prewar successes was the small, spartan, inexpensive Austin Seven of 1922. Boldly, Sir Herbert set up a factory in Pennsylvania to build it as the American Austin, starting in 1929, but sales were poor despite the deepening U.S. Depression, and production ended after five years.
The car was soon redesigned to become the American Bantam, built by a reorganized company that later submitted the winning design for the U.S. Army jeep.
For information on the development of the 1953-1958 MG Magnette, continue on to the next page.
For more information on cars, see:
Classic Cars

Consumer Guide New Car Search

Consumer Guide Used Car Search