In the 1950s, it was not uncommon for finished customs like the Buddy Alcorn Mercury to be remodified and updated to keep pace with quickly changing automotive fashion. This was especially true if the vehicle changed hands, since the new owner usually felt compelled to put his own stamp on the car.
The Buddy Alcorn Mercury, a 1950 Mercury, was originally completed for an unknown owner in 1952 by Gil and Al Ayala. The two brothers performed the initial restyling, including the top chop, rounded hood and deck corners, and door handle and chrome removal. The top was chopped four inches in the front and a full 7-1/2 inches in the rear, achieving a tapered slope with almost fastback proportions.
The Mercury's signature doorline hump was reworked into a smooth "full fadeaway" body line, rear quarter panels and taillights from a 1952 Olds were grafted on, and the car was finished in a deep maroon color.
Buddy Alcorn then bought the car and brought it to Barris Kustom Autos in 1955, where Sam and George and crew updated it with new trim, taillights, and a deep eggplant-­colored paint job.
The 1950s' best customizers were highly skilled at blending bits and pieces from various cars into a cohesive new design. There was no set template for all of this, no professional design degrees involved; these self-taught designers simply relied on their own innate design intuition.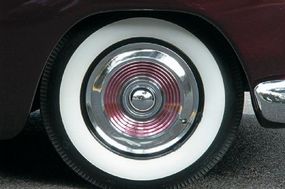 The Alcorn Mercury utilizes trim pieces from a variety of cars, each artfully blended into a harmonious whole. The headlight bezels are 1952-54 Ford/Mercury items, which were extremely popular with customizers for their "frenched" appearance.
The grille bar is a narrowed 1952 Olds item with two extra teeth added. The front bumper is from a 1951 Mercury, and the rear bumper is a 1952 Ford piece with molded-in exhaust outlets. Both bumpers sport 1955 Pontiac bumper guards.
A 1955 Chevy trim spear forms the upper section of the side trim, while the lower part is an inverted 1953 Dodge piece that borders a hand-formed scoop adorned with 1954 Mercury teeth. Tail­lights were taken from a 1955 Plymouth, and hubcaps are 1956 Mercury units modified with bullet centers and color-keyed paint. To the credit of the Ayalas and Barrises, none of these additions and alterations looks tacked-on.
The Alcorn Mercury, like other pre-1956 customs, exhibits an incredible amount of skilled labor, which was one of the reasons this style of custom almost became extinct. Traditional customs were falling out of fashion as the 1950s progressed and Detroit's dreamboats got lower and flashier.
For about the same cost, a car enthusiast could buy a new 1957 model fresh off the showroom floor, lower it, perform a few simple trim swaps and give it a wild custom paint job, and end up with a car with as much appeal as a heavily modified seven-year-old Mercury -- with a fraction of the time and effort.
Buddy later traded his Mercury to Barris employee Dick "Peep" Jackson for Jackson's mildly customized 1957 Ford. Jackson updated the Merc with a pinstriped two-tone paint scheme, then traded it away for a 1957 T-Bird.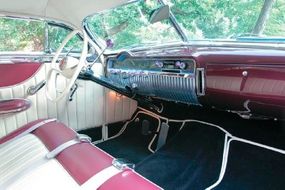 Although it was one of the best-executed customs of its time, the Alcorn Merc's style had fallen out of favor. The car sat on a used-car dealer's lot, changed hands a few more times, then deteriorated as it sat outside exposed to the elements for many years.
Noted Barris collector/restorer Kurt McCormick acquired its remains in 1998, then embarked on the grueling restoration process. The job was completed in 2002, and aside from mechanical updates and a few modern creature comforts, the Alcorn Merc appeared as it did in its original Barris form.