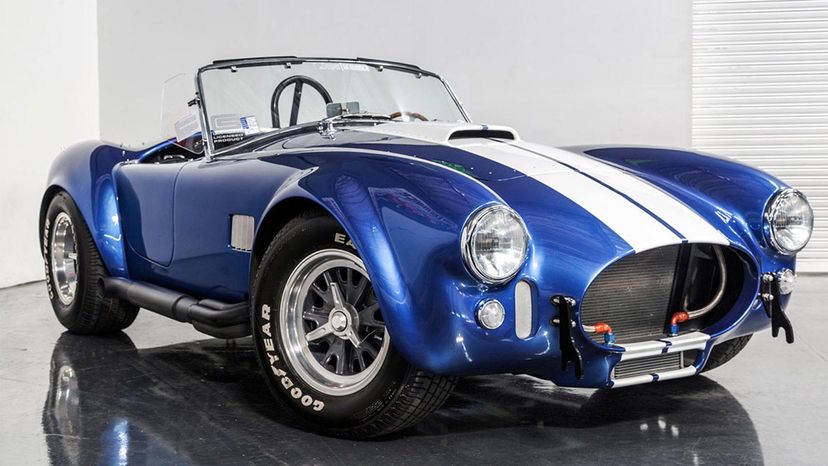 The Superformance MKIII is the only Shelby Cobra replica built under license from Carroll Shelby Licensing Inc. It looks like an exact replica should.
Superperformance
Since the 1960s, kit cars have served as good ways to get drivers into building custom vehicles and creating more accessible replicas of rare sports cars. Kit cars initially got their name because manufacturers would sell the cars in pieces, like a full-size model kit. It was up to the purchasers to assemble them according to the provided instruction manuals. Usually, this meant installing new body components onto an existing chassis, with the Volkswagen Beetle being the earliest popular basis for kits.
Now, though, some kit cars are built in professional shops from all-new components. These types of kits command more money, but are built to higher specifications. Usually, they take the form of accurate replicas or reproductions of much rarer and more expensive cars, like the Shelby Cobra or Porsche 550.
One of the most noteworthy providers of replicas is South Africa's Superformance, which currently offers officially licensed reproductions of the Cobra, Corvette Grand Sport and Ford GT40. To explain a bit about the kit car manufacturing and ownership process, we talked to Justin Mahaffey, a representative from the U.S. branch of Superformance.
Meyers Manx and the Start of Kit Cars
Kit cars can be seen as a natural extension of the hot-rodding scene that was born in the 1940s and 50s. While complex custom cars and speed shops became popular, they brought a need for an alternative that the average gearhead could afford and assemble at home with basic tools. Kit cars stepped in to fill that niche and saw their own spring of popularity during the latter half of the 20th century.
The first such kit car to make a big splash was the Meyers Manx dune buggy in 1964. It came about when California surfer Bruce Meyers saw the need for an affordable beach cruiser. At the time, the Manx kit retailed for about $600, plus the cost of a VW Beetle donor car. The kit replaced much of the Bug with a lightweight fiberglass body shell, plus upgraded suspension components and reinforced bumpers.
The simplicity and iconic looks of the Meyers Manx meant that numerous rival companies soon began producing copycat kits. In late 2020, Motor Trend estimated that about 5,000 original Manxes were built between 1964 and 1970, with closer to 250,000 buggies being clones. Since the Beetle was so easy to work on, it also was converted into countless other kits through the years, including Porsche 356 and Ferrari Dino replicas.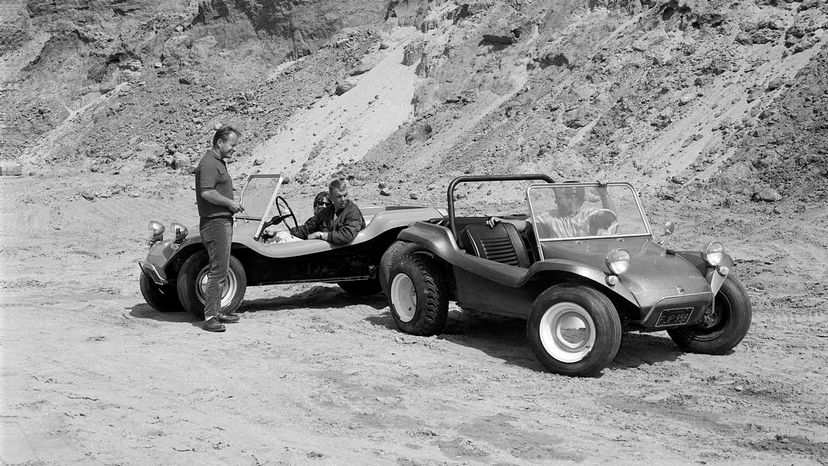 The first Meyers Manx Dune Buggy cost about $600 and used the VW Beetle as its body shell.
The Enthusiast Network via Getty
The Cobra
After the Manx, one of the earliest popular kit cars was a replica of the venerable Shelby Cobra. Around 100 of these replicas were built by former Shelby engineer Steve Arntz in the mid-70s, about 10 years after the release of the original car.
These Arntz Cobras used Chevy V8s, Jaguar gearboxes and had very little in common with Shelby's design apart from looks. Since the '70s, dozens of companies have created their own take on the Cobra kit car, with varying degrees of authenticity. Today, the Shelby remains one of the most reproduced designs, with hundreds of times more kits built than original cars were ever made.
Today, Factory Five and Superformance are two of the most popular and respected providers of Cobra reproductions. Factory Five's options are pretty affordable, starting at around $15,000. Then, it is up to the buyer to supply their own drivetrain and assembly. The company will also throw a new engine and transmission into the kit for just over $20,000.
Superformance Cobras are built to a more exacting standard and fetch $60,000 or more. Many of the components are made to be mechanically to Carrol Shelby's original design, as Superperformance is the only company granted official license to the Shelby name and logos.
Superformance Cobra and GT40 continuations were even used for stunt driving sequences in the periodic racing biopic film, "Ford vs. Ferrari." Buyers can option a more-affordable fiberglass body, or an authentic aluminum one.
Cars are delivered mostly assembled as a rolling chassis. "Rollers are purchased from one of our approved dealers," Justin Mahaffey says. "Most customers pick an engine installer to complete the drivetrain purchase and installation on their behalf, though a few choose to attempt to do the installation themselves." This takes most of the assembly work out of the customer's hands.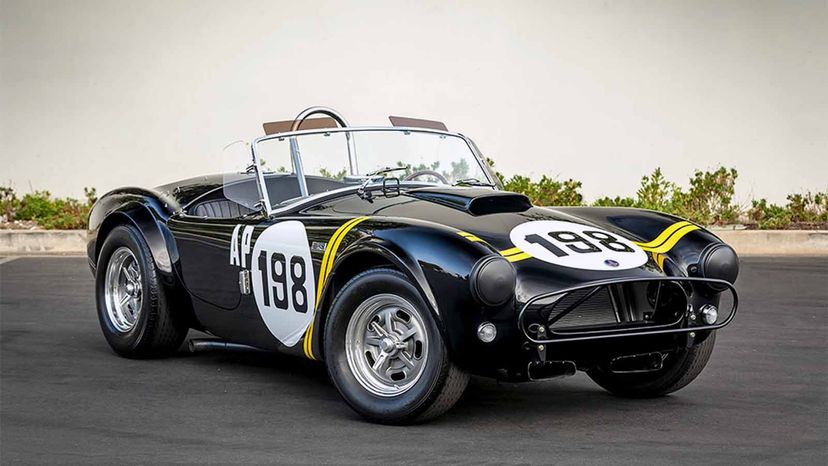 Just like the CSX8000, the Shelby CSX7000 Cobra by Superperformance is loyal to the original in every way.
Superperformance
Modern Kit Car Options
One of the coolest kit cars to emerge in recent years is the Exomotive Exocet, which is based on early Mazda Miata sports car models. This kit takes the already lightweight roadster and strips it down to its barest components. The resulting car weighs less than 1,600 pounds (725 kilograms), without windshields, doors or fenders.
The kit is also cheap, starting at less than $8,000, plus the cost of a donor car. Full assembly is the buyer's responsibility, and they can either keep the stock Mazda engine, or substitute a variety of more powerful options.
Factory Five also has a couple of modern sports car designs, the GTM and 818. The mid-engine GTM uses a custom aluminum chassis and fiberglass body, along with donated driveline parts from a C5 Corvette. Price for the GTM starts at just under $25,000, plus engine and assembly. The 818 is a similar design, but it's smaller and costs less. It comes in just under $10,000, but the buyer needs to install a turbocharged Subaru engine.
Ultima Sports out of the U.K. also offers low-slung supercar kits starting at about $50,000. Coupe and open-top bodies are available, with a variety of Chevy V8 engines with up to a staggering 1,200 horsepower. Each must be wrangled in with a six-speed manual transmission, so this is really not a novice driver's car. Kits can be delivered in pieces or with the chassis pre-assembled.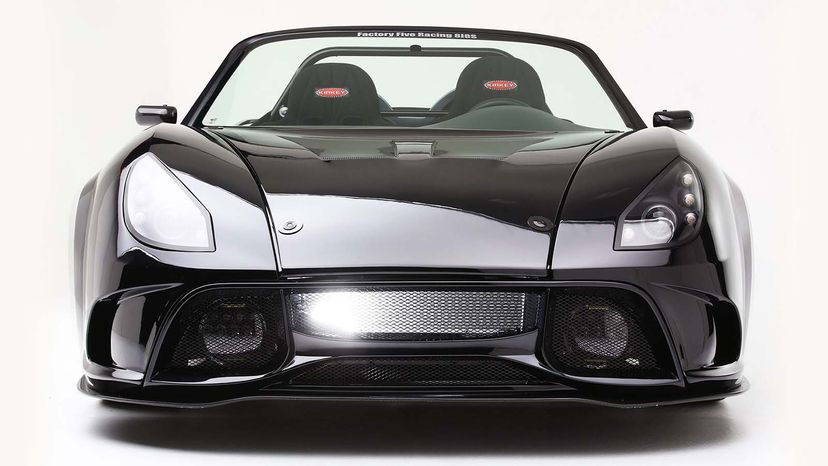 Based on tough Subaru Impreza/WRX running gear, the 818 by Factory Five is an ultra-light, ultra-modern, computer-designed, two-seater sports car priced under $10,000.
Damian Hock/Flat-Out Media/Factory Five
Kit Car Registration and Ownership
Questions many people have about kit cars have to do with the issues of road legality. Long story short: Kit cars are street legal in the United States. However, owners will likely have to jump through more hoops to get them registered, and the process varies based on location.
"Every state has a different law or process in place for these types of cars," Mahaffey says. California is one of the strictest states when it comes to kit cars, or what it calls "specially constructed vehicles." The state grants a maximum of just 500 titles per year for these vehicles. Each one has to pass basic safety inspections to verify that components like brakes, lights and seatbelts are functional for the street.
Other states have more relaxed laws, including South Carolina, and allow kit cars to be registered using a similar process to production cars, albeit with a distinct constructed vehicle title. For more information on kit car legality, the Specialty Equipment Market Association (SEMA) has an online directory that breaks down the registration requirements for all 50 states.
Of course, every car requires insurance. Collector car agencies such as Hagerty will have the resources needed to draft a kit car insurance policy.
"Most customers opt for a stated value policy for insurance," Mahaffey says. These policies generally grant drivers reasonable rates, with the stipulation that they're allowed a fixed number of driven miles per year, often around 3,000 (4,828 kilometers).
Kit cars usually lack modern safety conveniences like airbags, crumple zones and backup cameras, so they should be driven with caution on the street. Treat the vehicle as you would any vintage car. You can test the performance of many of these on a racetrack. However, safety equipment, such as a helmet, a fire extinguisher, heat resistant clothing and rollover bars should be installed or worn as a precaution.