Production Mustangs for 1967 were larger, heavier, and more "styled," which meant that Shelby maker Carroll Shelby's ne plus ultra Mustang, the GT-350, would have to change. To keep the weight of the 1967-1968 Shelby GT-350 and GT-500 down and its appearance distinctive, Shelby designers created a custom fiberglass front end to complement the production Mustang's longer bonnet.
They also put two high-beam headlamps in the center of the grille opening. (Some later cars have these lamps moved to the outer ends of the grille to comply with state motor vehicle requirements specifying a minimum distance between headlamps.) The 1967 Shelbys had a larger hood scoop and sculptured brake cooling scoops on the sides. Another set of scoops on the rear-quarter roof panels acted as interior air extractors. The rear end received a spoiler and a large bank of taillamps.
As a total design, the 1967 Shelby was stunning. It looked more like a racing car than many all-out racers; there was still nothing like it on American roads.
Certain changes also reflected customer feedback indicating a preference for a more manageable, easier-to-drive car. Power steering and power brakes, for example, became mandatory options. The '67 interior received special appointments not shared with the production Mustang, including a distinctive racing steering wheel, additional gauges, a genuine rollbar, and inertia-reel shoulder harnesses.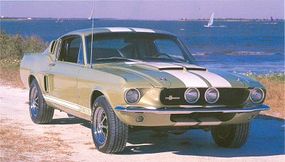 In 1967, Ford offered a 390 cid V-8 for its standard Mustang as its top performance engine. In typical Shelby style, Carroll went Ford one better, with a 428 cubic-incher and a new model, the GT-500. It was a popular move, for GT-500s outsold GT-350s by nearly 2-to-l. The GT-350 still carried the Mustang's stock high-performance small-block, but without the previous steel tube exhaust headers.
What Shelby had created by 1967 was a combination of performance and luxury, rather than a car that emphasized performance above everything else. Since carmakers adopted more conservative horsepower ratings in 1967 -- mainly to keep the insurance companies at bay -- the GT-500 was only rated at 355 bhp, although it certainly developed more than that. The GT-350 was rated as before at 306 bhp, which is odd, because without the special headers and straight-through mufflers, its output was likely somewhat lower, probably closer to that of Ford's own 271-bhp high-performance 289.
Still optional for the 289 was a $549 Paxton supercharger, which probably increased horsepower to around 400, though no official rating was ever published. A few GT-500s were special-ordered with a 427 V-8 of 400 bhp. Despite the added muscle, no attempt was made by the factory to race the 1967 models. Altogether, 3,225 were built.
For details on the 1968 Shelby GT lineup, click on the next page.
For more information on cars, see:
Classic Cars

Consumer Guide New Car Search

Consumer Guide Used Car Search