By the time the 1965 Ford Mustang debuted, Carroll Shelby and his furiously fast Cobra sports cars were already performance legends. The high-performance machines Shelby would create out of the Mustang were destined to achieve fabled status of their own.
It takes a fascinating man to create captivating cars. Born in 1923 in Leesburg, Texas, Shelby served as an Army Air Corps flight instructor during World War II, then worked as a truck driver, ranch hand, and salesman. He was into chicken ranching when he turned to racing sports cars, starting in 1952 with a humble MG-TC.
To many enthusiasts, the name Carroll Shelby conjures images of a lanky country boy with a thick Texas drawl and a wide "aw shucks" grin beneath a black cowboy hat. This down-home manner was somewhat calculated. In 1953, for example, Shelby was late getting to a race and had no time to change out of his farmer's overalls. Noticing how people reacted, he made the "Texas tuxedo" a sartorial signature.
He might play to crowds, but Shelby was as smart about business as he was about racing and building cars. He was, as one writer put it, "a promoter in the most flattering sense. Like an alchemist, he had the unique ability to combine elements so that their sum becomes greater than the total of their parts."
Shelby raced successfully in the U.S., Europe and Latin America in the mid- to late-Fifties, wheeling Aston Martins, Maseratis, Ferraris, and other sports cars with stellar teammates including Masten Gregory, Dan Gurney, and Phil Hill. He also had a few Formula rides during the 1955 and '58 seasons.
A natural but fierce competitor, Shelby would often steal a quick pre-race snooze, saying "Wake me up when it's time to grid." His high point as a driver came in 1959. Shelby's friendship with John Weyer of Aston Martin led to his being paired with Ray Salvadori in an Aston DBR for that year's LeMans 24 Hours. Carroll and Ray won the always-grueling event outright.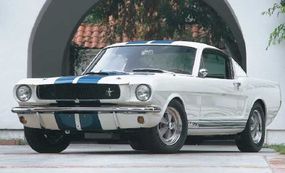 The very next year, a heart condition forced Shelby to retire from driving, but not from working with cars. Settling in Southern California, he became a Goodyear tire distributor and opened America's first performance driving school. Meanwhile, he dreamed of building a pure "sport car" -- trim, light, powerful, and fast enough to beat anything on street or track.
He got his chance in September 1961. Ford had just introduced its revvy "Fairlane 221" small-block V-8, and Shelby heard that England's A.C. Cars was losing the engine supplier for its lithe two-seat Ace roadster.
There are various stories about what happened next, but basically Carroll decided the engine and car were made for each other. He cajoled A.C. into selling him Aces and Ford into supplying engines, only he opted for the more powerful 260-cubic-inch V-8. Thus was born the Cobra in February 1962.
By year's end, Shelby was offering an even faster 289-cid version, built at his small shop in Venice, California. By 1965 he had the brutal 427 Cobra, a timeless classic whose reputation was cemented in early 2007 when Shelby's personal version, the 800-horsepower "Super Snake," was sold at auction for $5.5 million.
For even more on the Ford Mustang of yesterday and today, check out the following articles:
Saddle up for the complete story of America's best-loved sporty car. How the Ford Mustang Works chronicles the legend from its inception in the early 1960s to today's all-new Mustang.

Mustang thundered onto America's automotive landscape like no car in history. 1965, 1966 Ford Mustang tells how the initial models captivated the nation to capture more than a million sales.
The 1968 Shelby Cobra GT 500-KR was no mere Mustang. Check out this muscle car profile, which includes photos and specifications.
Ford muscle cars were among the top performers of the muscle car era. Check out profiles, photos, and specifications of some tough Ford muscle cars.