Diesel Hybrid Concepts
The Golf TDI hybrid concept packs a lot of fuel economy into a small package. It uses a three cylinder common rail diesel engine with a displacement of only 1.2 liters. It produces 74 horsepower and 132 lb-ft (178.76 Nm) of torque. In addition, the Golf TDI also has an electric motor that operates either with the diesel engine or separately. The electric motor is able to produce 27 horsepower and 103 lb-ft (139.49 Nm) of torque.
According to Volkswagen, the electric motor provides enough power to get the vehicle moving from a standing start. Once the vehicle is in motion, the diesel engine will only engage at higher speeds, or if extra acceleration is required. In order to further improve fuel economy, the Golf TDI also rides lower than the standard Golf on a revised suspension and makes use of a unique front bumper to reduce drag.
However, reports indicate that while Volkswagen is planning to produce a hybrid, it won't likely be this one. Citing the high cost of building a diesel hybrid as a factor, the company is anticipated to be going with a turbocharged and supercharged gasoline hybrid instead.
When it comes to high-end luxury sedans, you can't do much better than a Mercedes-Benz S-Class. The top-of-the-line four-door Mercedes offers massive amounts of performance, comfort, gadgetry, and style -- just about everything except fuel economy. The 2009 Mercedes S600 model only achieves 11 mpg (4.7 km/l) in the city and 17 mpg (7.2 km/l) on the highway [source: fueleconomy.gov].
But at the Frankfurt Motor Show in 2007, the company showed off a concept S-Class diesel hybrid that can deliver more than 40 mpg (17 km/l). The Mercedes-Benz S300 BlueTEC Hybrid concept has a 2.2-liter diesel engine that drives the wheels most of the time, along with an electric motor to assist with acceleration. Overall, it produces about 224 horsepower and a whopping 413 lb-ft (559.32 Nm) of torque -- numbers that are comparable to a powerful V8 engine.
The S300 BlueTEC Hybrid concept also uses Mercedes' version of the AdBlue urea injection system, which allows the vehicle to meet the strictest of emissions standards. This is another potential 50-state diesel-powered car.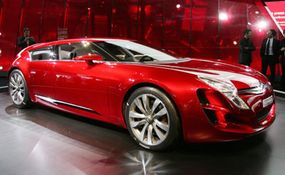 One of the more unique diesel hybrid concepts ever seen comes from a company known for innovation. French automaker Citroën showed off its C-Métisse concept car at the Paris Motor Show in 2006. The fire-engine red concept car was a low-slung four door coupe with swooping lines and huge wheel arches.
Better yet, the C-Métisse was a diesel hybrid with a very unusual setup -- a 2.7-liter diesel V6 in the front of the car drives the front wheels, while two electric motors drive the rear wheels. The V6 puts out about 208 horsepower and the two rear motors deliver about 295 lb-ft (399.51 Nm) of torque each, according to Citroën. That's enough to drive the vehicle from 0 to 62 mph (100 km/h) in about 6.2 seconds.
The car achieves about 45 mpg (19.1 km/l) with this setup. It can also run up to 20 mph (32.2 km/h) on electric power alone, where it operates in "Zero Emission Vehicle" mode. Citroën says the concept is very environmentally friendly, and is equipped with particulate control systems.
With their excellent performance, proven durability and great fuel economy, why wouldn't automakers produce diesel hybrid vehicles? Substantially higher initial cost may be the biggest factor, but as fuel prices climb, a diesel hybrid just may be in your future.
For more information about diesel engines, hybrid cars and other related topics, follow the links below.
Related HowStuffWorks Articles
Quiz Corner: Hybrid Car Quiz

How Clean Diesel Fuel Works

Diesel Engine Pictures
More Great Links
Sources
A phone interview with Bruce Belzowski. Automotive Industry Expert, The University of Michigan.

A phone interview with Dave Buchko. Advanced Powertrain Spokesman, BMW.

Citroën. "C- Métisse: Diesel hybrid drivetrain." http://www.citroen.com/CWW/en-US/CONCEPTCARS/CMETISSE/TEXT5/

Gartner, John. "Diesel Hybrids on the Fast Track." Wired News. March 21, 2005. http://www.wired.com/cars/energy/news/2005/03/66949

King County Dept. of Transportation. "Metro Transit rolls out the first new hybrid buses." May 27, 2004. http://www.metrokc.gov/kcdot/news/2004/nr040527_hybrids.htm

Nunez, Alex. "Frankfurt Preview: Mercedes-Benz S 300 BLUETEC Hybrid." Autoblog. Sept. 7, 2007. http://www.autoblog.com/2007/09/07/frankfurt-preview-mercedes-benz-s-300-bluetec-hybrid/

Nunez, Alex. "Official Update: VW Golf TDI Hybrid." BioDieselNow. March 4, 2008. http://www.biodieselnow.com/blogs/biodiesel_vehicles/archive/2008/03/01/ update-vw-golf-hybrid.aspx