It's sleek. It's aerodynamic. It's environmentally friendly. BMW's H2R (Hydrogen Record Car) is powered entirely by the clean-burning process of liquid-hydrogen combustion, and this next-generation racecar has already set speed records in its class.
So why is BMW expending copious amounts of time, money and energy to spearhead the production of hydrogen-powered vehicles? According to the BMW Web site, the company's long-term goal is to eventually replace the cars that run on atmosphere-polluting fossil fuels with vehicles that use clean-burning, liquid-hydrogen fuel. In this article, you'll learn about the H2R and its unique, hydrogen combustion engine.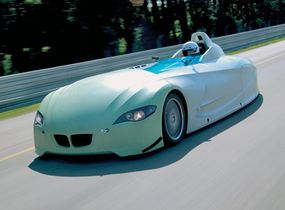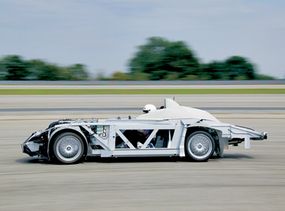 With its smooth lines, aerodynamic design and gleaming silver body, the H2R appears to have sprung from the pages of a science fiction novel: It looks like a cross between a thoroughbred sports car, a sleek zeppelin and a futuristic rocket ship.
With a lightweight aluminum chassis, a monocoque aluminum space frame and an outer skin composed of carbon-fiber-reinforced plastic, the H2R is designed for high speed and maximum stability under extreme driving conditions. Tires measuring 245/40/19 ensure maximum road contact.
The H2R's suspension system comprises a double-wishbone, spring-strut front axle, rack-and-pinion steering, forged-aluminum track control arms (with two ball joints for superior wheel guidance and directional stability), a tie bar and an anti-roll bar. The result is a stable skeleton that results in a smooth and vibrationless driving experience.
The H2R's race-car-like appearance and high-speed performance belie its extreme environmental friendliness. Conceived and developed in only 10 months, the H2R features a 6.0-liter, V-12 hydrogen-powered engine. Whereas other carmakers have gone the route of hydrogen fuel cells, BMW has opted for a more traditional-style engine that utilizes a nontraditional fuel. The hydrogen combustion engine operates on the same principle as other internal combustion engines except that liquid hydrogen is used as the fuel source rather than gasoline or diesel oil.