The 1973 Harley-Davidson FL Electra-Glide is one of the few Harley models to sport "AMF" alongside the Harley name on its logo.
Though purchased by AMF in January of 1969, "AMF" didn't begin to appear on Harley badging until 1971. When it did, many owners -- not altogether happy about the association -- removed the badges and repainted the bike. As a result, relatively few Harleys from the AMF years survive in unmolested condition.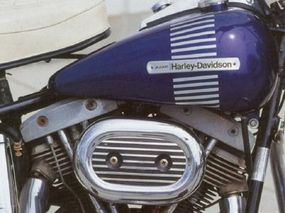 This one did, however. It isn't in pristine shape because it's never even been restored. Save for the inevitable ravages of Father Time, it's an original example -- just as it left the showroom -- with only 69 miles on the odometer.