The 1947 Kaiser Special dates from a time of shining possibilities for its manufacturer. Ambitious, fast-moving California industrialist Henry Kaiser had teamed up with savvy Detroit veteran Joseph Frazer to do the seemingly impossible -- crack the U.S. auto industry "club" epitomized by the Big Three of General Motors, Ford, and Chrysler. If it couldn't beat 'em, Kaiser-Frazer Corporation would have been quite content to join 'em.
The time couldn't have been more ripe to try such an audacious thing. With car production halted during the World War II years, pent-up demand for new vehicles in peacetime was expected to be tremendous. Ensconced in Ford's former wartime B-24 bomber plant in Willow Run, Michigan, K-F was producing Kaisers and somewhat costlier Frazers by the summer of 1946 -- this despite time lost in an abortive attempt to introduce the Kaiser with front-wheel drive. The following year, the two marques' combined production made K-F the fourth-largest automaker in the nation.
But the high-flying times wouldn't last. When Kaiser borrowed heavily in anticipation of big-volume production for 1949, a wary Frazer walked away. The last of his namesake cars were made in 1951.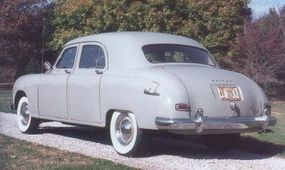 The gleaming freshness of the 1947 Kaiser Special pictured here is a metaphor in metal for K-Fs prospects in its early days. One of 65,062 built for the model year (plus another 5,412 later-arriving Customs), it is original in all but paint, which has been resprayed to match its factory hue. Clear-plastic seat covers now preserve the pin-striped cloth upholstery.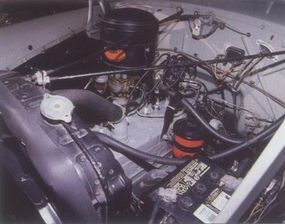 Underhood is the 226-cid Continental-built L-head six that powered Kaisers and Frazers. It made 100 horsepower in the 1947 Special. In the featured car, it is hooked to a Borg-Warner three-speed transmission with optional overdrive.
This Kaiser Special has been a Kaiser-Frazer Club award winner, and accessories like the radio and heater all work.