Frazer was one of the few genuinely new post World War II American cars, but managed only a short, somewhat unhappy life. The name honored Joseph Washington Frazer, the high-born aristocrat (descended from the Virginia Washingtons) who loved motorcars and became a super-salesman through stints at Packard, Pierce-Arrow, and General Motors. Frazer also worked with Walter P. Chrysler in the 1920s and resuscitated moribund Willys-Overland in the late '30s.
In the early '40s, Frazer was looking to build a new postwar car, an idea that also occurred to Henry J. Kaiser, the West Coast metals and construction tycoon who'd turned out wartime Liberty ships double-quick. Frazer and Kaiser met, hit it off, and formed Kaiser-Frazer Corporation in July 1945, with Frazer as president, Kaiser as board chairman. It seemed a match made in automotive heaven: Joe's redoubtable sales acumen married to Henry J.'s vast manufacturing resources.
After considering several proposals (including a radical front-drive design), they settled on a conventional rear-drive four-door sedan with modern flush-fender styling by renowned custom-body designer Howard A. "Dutch" Darrin. The end product wasn't all Darrin's work -- nor entirely to his satisfaction -- but it was smooth and fairly stylish for the ­period, with the arguable exception of the high blunt hood.
Two versions were planned: a medium-price Kaiser and a luxury Frazer. Henry J, thinking big as usual, geared up for Kaisers by buying Ford's huge, wartime bomber plant at Willow Run, Michigan. Frazers were to be built by Graham-Paige in Detroit, lately acquired by Joe and his associates. But G-P was foundering and sold out to K-F in 1947, so all but the earliest Frazers were built alongside Kaisers.
Both makes began production in June 1946 (for model-year '47). Each offered basic and upmarket models. Frazers were nameless "Standards" and Manhattans. There was only one engine: a long-stroke 226.2-cubic-inch flathead six, basically the Continental "Red Seal" design improved upon and mostly built by K-F. Frazer advertised it as the "Supersonic Six," but with only 100/110 horsepower to push over 3300 pounds, no K-F car acted jet-propelled.
At least the "Darrin-styled" body offered exceptional passenger room -- including the industry's widest front seat -- 64 inches -- and the rugged box-section chassis boasted modern front-coil/rear-leaf suspension.
Initially, K-F built two Kaisers to each Frazer, reflecting the latter's higher $2295 starting price -- close to Cadillac ­territory. The Manhattan was some $400 more, but also elegantly upholstered in nylon and fine Bedford cord cloth keyed to exterior colors, which were typically two-tones. Full leather upholstery was also available.
Unfortunately, this Cadillac price rival lacked an automatic transmission of any kind, let alone one to match ultrasmooth Hydra-Matic: just a three-speed manual or the same with optional Borg-Warner overdrive ($80).
Yet despite the stiff prices, lack of automatic, and no eight-cylinder engine in sight, K-F enjoyed strong initial sales to earn the press sobriquet of "postwar wonder company." Still, some observers doubted the dynamic managerial duo. Henry Kaiser, they said, didn't know an automobile from a motorboat, while Frazer had only sold cars, not built them.
Even so, K-F succeeded despite postwar materials shortages, forming a crack team of expediters who foraged the country for everything from sheet steel to copper wire. They usually got what they wanted -- though at a price, the main reason the cars cost so much. Still, K-F racked up the highest output of any independent in 1947-48, with total volume sufficient for ninth place in the production race.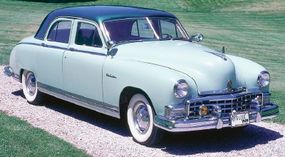 And why not? Both the Kaiser and Frazer had the advantage of being all-new cars with no prewar links, and both were readily available (though competitors were fast returning to prewar production levels). They also looked good: very clean, with modest horizontal grilles (Frazer's was a bit more ornate than Kaiser's) and little decorative chrome or sculptured sheetmetal, reflecting Darrin's design ideals.
A long 123.5-inch wheelbase provided a smooth ride, and the six-cylinder engine, though plodding, delivered excellent fuel economy. But this was a heady age when buyers wanted all the performance and chrome they could get. Though Frazer ultimately got around to optional hood ornaments and more- glittery interiors, the lack of eight-cylinder power would prove an increasing sales liability for the prices charged.
For more on defunct American cars, see: