Motorcycle Future
­­­Although the basic design of the motorcycle remains the same, motorcycle engineering continues to enjoy innovation and gradual evolution. Consider the two vehicles shown below. The B91 Wraith from Confederate Motor Company is a $50,000 motorcycle with a carbon-fiber frame and a molded carbon-fiber fuel container placed under the engine. The Dodge's Tomahawk is not even a motorcycle in the strictest definition. To handle the massive V10 Viper engine, Tomahawk designers had to add two more wheels. They also had to move the gas tank to the front fender to shield it from the engine's heat.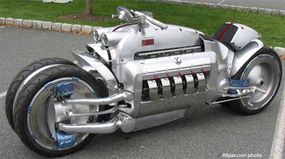 The Tomahawk is essentially a concept vehicle, but it demonstrates America's fascination with two-wheeled transportation and underscores why people ride motorcycles in the first place -- speed, power and the thrill of the ride.
Motorcycle accessories are becoming more high-tech as well. For example, BMW's K1200 LT Elite offers a built-in navigation system that dictates turn-by-turn directions through speakers in the helmet. The prototype Blue Eye Helmet features the world's first head-up display -- a 320- by 240-pixel color LCD positioned two inches from the eye.
For more information about motorcycles, check out the links on the following page.
Related HowStuffWorks Articles
How Harley-Davidson Works

How Bicycles Work
More Great Links
Sources
Books
Holmstrom, Darwin and Charles Everitt. The Complete Idiot's Guide to Motorcycles, 3rd ed. New York: Alpha Books. ISBN 1592573037

Green, William. Harley-Davidson: The Living Legend. New York: Crescent Books. ISBN 0517066831
Reference
Encyclopedia Britannica 2005, s.v. "motorcycle." CD-ROM, 2005.

Encyclopedia Britannica 2005, s.v. "bicycle." CD-ROM, 2005.

Microsoft® Encarta® Online Encyclopedia 2005, s.v. "motorcycle."

DK Ultimate Visual Dictionary, s.v. "The motorcycle," "The motorcycle chassis," "Motorcycle engines," "Competition motorcycles." New York: DK Publishing, Inc.
Promotional Material
"Journey to adventure: Ten-step guide to motorcycling." Brochure produced by the Motorcycle Industry Council Inc.
Print Articles
Brown, Joe. "Rev your ride," Popular Science, March 2003.

Harbison, Martha. "Dodge's 4-wheel Tomahawk," Popular Science. March 2003.

Kirschner, Suzanne Kantra and Jenny Everett. "And now, onboard navigation for bikers," Popular Science. February 2002.

Murphy, Myatt. "The ultimate 2-wheel racing machine," Popular Science. May 2002.

"What's new: Motorcycling," Popular Science. August 2002.
Web Articles
Tretheway, Steve and Terry Katz. "Motorcycle gangs or motorcycle mafia?" National Alliance of Gang Investigators Associations, 1998. http://www.nagia.org/Motorcycle_Gangs.htm

Tharp, Dave. "The first motorcycle?" Motorcycle.com. http://www.motorcycle.com/mo/mcmuseum/firstbike.html

Yager, Mark. "Safety bits: High-speed steering." Motorcycle.com. http://www.motorcycle.com/mo/mcnews/safe2.html

"Quebec's motorcycle gangs," CBC News Online. March 2, 2004. http://www.cbc.ca/news/background/bikergangs/
Web sites
Harley-Davidson USA http://www.harley-davidson.com

Honda Motorcycles http://powersports.honda.com/motorcycles

Indian Motorcycle http://www.indianmotorcycle.com