The 1952 Harley-Davidson FL Hydra-Glide proved a major step for Big-Twin engines, when the old hand-shift/foot-clutch arrangement was superseded by a modern foot shift and hand clutch. However, the old setup was still optionally available -- and would remain so until the mid-1970s -- as it was still preferred by some riders and police departments.
Never one to turn a deaf ear to its customer's wishes, Harley continued to lavish its bikes with more chrome and polished pieces. Some additional brightwork was made standard, such as polished lower fork legs (which were at first painted black), while accessory packages offered such niceties as chrome fender rails, chrome instrument panel, and chrome front-fender lamp.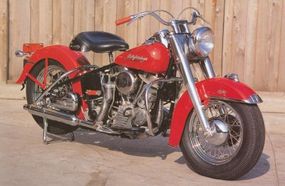 Also, the 61-cubic-inch (EL) version of the Panhead was dropped after 1952 due to lack of interest, leaving the 74-cid FL as the only Big Twin.
On the flathead front, the faithful 45-cubic-inch WL was superseded by the Model K, which was entirely redesigned. New features included a foot-shift transmission in unit with a reworked 45-inch flathead V-twin, hydraulic front forks (the WL kept its old springer till the end), and Harley's first rear suspension, a conventional swingarm with dual coil-over shocks.