The 1950s Revival Leadsled custom car was built during a time when mainstream America seemed to rediscover the '50s. Nostalgic TV shows and movies such as Happy Days and Grease were extremely popular.
Though traditional customs had all but disappeared by the end of the 1960s, by the mid '80s they were well on their way back. Ever-growing numbers of car enthusiasts began reviving the styles of the 1950s as well. Some were beginning to seek out the original '50s customs, and '50s-vintage cars were being built in the classic "leadsled" style.
One of the best examples of the custom revival is this 1950 Chevrolet two-door hardtop, originally built by Doug Thomp­son for Larry Cochran of Belton, Missouri. Even though it looks like it could have rolled out of the Barris Kustom shop in 1955, this sumptuous Chevy was originally built in 1986.
Like any full custom, this Chevy was treated to an extensive list of modifications. The headlights were frenched, and the hood was modified with rounded corners, trim removal, and six rows of louvers. A '50 Mercury grille opening was fit with a grille fashioned from a '59 Imperial center bar mated to '51 Mercury bumper guards. Thompson chopped the top a healthy four inches for an extra low profile.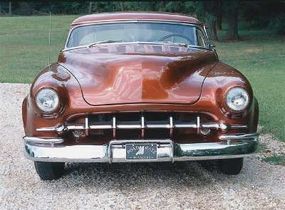 Sculpted bodyside character lines were hand-formed in metal to taper into custom rear fender scoops trimmed with '54 Mercury teeth. Rear fins and taillights from a '53 Cadillac were grafted on to the Chevy's rear fenders. Chrome lakes pipes were fully frenched into the rocker panels. Bumper guards from a '52 Pontiac were smoothly molded into the front and rear bumpers. For hubcaps, Thompson used the ever-popular Cadillac "Sombreros."
Many custom car enthusiasts lust after the look of the original customs, but only a die-hard few want to relive the relatively crude technology of 1940s and 1950s cars. Like their street rod cousins, most modern-day nostalgic customs take advantage of more up-to-date and reliable automotive mech­anicals while maintaining a purely vintage exterior appearance.
Thompson replaced the original ball-joint front suspension on this Chevy with componentry from a 1969 Camaro. The engine is a tried-and-true small-block Chevy/Turbo 350 automatic transmission combo, for trouble-free cruising.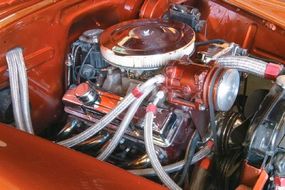 After its completion, the Chevy scooped up the prestigious Harry Bradley Design Achievement Award at the 1986 KKOA Street Custom Spectacular. From there, it was rarely seen until custom collector extraordinaire Jack Walker acquired the car in 2000.
Walker, who had provided design input when the car was originally being built for his friend Cochran, had Thompson give it a fresh paint job in custom mixed colors close to the original, and had Bob Sipes stitch up a more traditional white tuck-and-roll interior to replace the '80s-style velour Cochran picked. The steering wheel was also swapped out for a more nos­talgic 1959 Impala unit.
­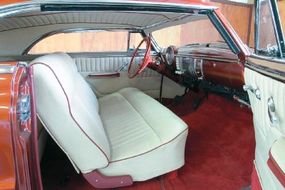 Proving that the appeal of a well-designed custom car is timeless, the Chevy was awarded with a Custom Rodder Magazine Top Ten Pick at the Goodguys Heartland Rod and Custom Nationals in 2002, 16 years after it was originally built.