1952 Ford F-Series Trucks
Ford F-Series truck sales were good in 1951, although government-imposed wartime production quotas depressed production somewhat. Total 1/2-ton production slipped to 141,668 vehicles, 117,414 of which were F-1 pickups. The F-2 range accounted for another 20,469 orders and 25,946 F-3s were turned out.
For 1952, appearance changes were confined to minor hood trim revisions and a slight shuffling of color choices. Far more significant was the debut of a new ohv six-cylinder engine. The 215-cubic-inch power plant produced 101 horsepower at 3,500 rpm with a compression ratio of 7:1. Thanks to a compression ratio hike, the 239-cubic-inch V-8 also received a slight power boost from 100 to 106 horsepower; it wouldn't do to have a six produce more horsepower than the Ford V-8.
Government production quotas remained in force for 1952 and were a major factor in holding down Ford truck availability. A total of 94,148 F-1s were built, 81,537 of them pickups. The F-2 production run slumped to 17,579 units and 19,991 F-3s came off the assembly lines. Prices ranged from just under $1,100 for a six-cylinder F-1 chassis-and-cowl to $1,800 for a V-8 F-3 stake truck.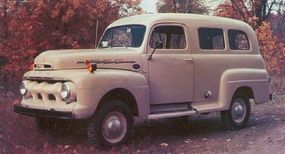 Though Chevrolet continued to lead the truck market in the 1948-1952 period, the first of the F-Series trucks succeeded in re-establishing Ford as a serious contender in the field. Ford used the high-volume F-1 range as a stepping stone to an even more successful F-100 series beginning in 1953. Though Ford didn't reclaim its industry-leading status until the late Seventies, it laid the groundwork for its eventual success with the Bonus Built trucks.
For more information on cars, see:
Classic Cars

New Car Search

Used Car Search