1948 Ford F-Series Trucks
Ford's top management knew full well how crucial the new 1948 F-Series truck program was to the company's long-range goals. Let's examine how Ford's 1948 truck line differed from the one it was replacing.
First of all, and critically important, Ford's truck range was substantially expanded. In 1947, the line consisted only of a 114-inch-wheelbase 1/2-ton series; a 122-inch-wheelbase one-ton series (called the Tonner); the Vanette, which was a forward-control delivery route van built on a modified Tonner chassis; and a heavy duty line of 11/2- and two-ton conventional cab and cab-over-engine models.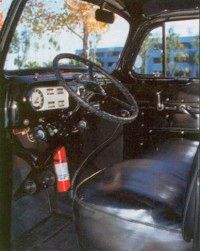 The 1/2-ton and Tonner series included finished pickup, panel, stake, and platform models, as well as chassis/cowl, chassis/windshield, and chassis/cab jobs adaptable to aftermarket conversions. The heavy duty lines were restricted to stake and platform bodies, and chassis/cowl, chassis/windshield, and chassis/cab models. A special 134-inch-wheelbase dump truck chassis with cab completed the offerings.
In contrast, the 1948 line consisted of eight levels, that is, 1/2-, 3/4-, heavy duty 3/4-, one-, 11/2-, two-, 21/2- and three-ton trucks. Only one panel model was now cataloged, in the light duty 1/2-ton range, but it gained a new body with a slightly longer cargo area than in the 1947.
The only commercial body types that didn't reappear in 1948 were the car-based sedan delivery and the Vanette. In the case of the former, Ford engineers were too busy with the bread-and-butter trucks to be distracted by a specialized, low-volume model. The latter was revived in 1949 as the Parcel Delivery chassis, an adaptation of the F-3 available on two wheelbases.
The engineers' second departure from past practices was the use of an engine not already in use in a FoMoCo car. (The only other time Ford used a non-auto engine in a truck -- transit buses excepted -- was in 1941 and 1942, when a 120-cubic-inch four-cylinder tractor engine was offered as an option for 1/2-ton trucks. But it was created by cutting Ford's famous 239-cubic-inch "flathead" V-8 automobile engine in two.) The new engine was a 337-cubic-inch L-head V-8, commonly known as the Lincoln engine because a version of it also powered Lincoln cars beginning in 1949. This big V-8 was responsible for putting Ford squarely in the heavy truck business.
Ford billed its 11/2- and two-ton trucks as "Heavy-Duty" models and the new 21/2- and three-tonners as "Extra Heavy-Duty" models. According to standard industry practice, they would have been classified as medium duties and heavy duties, respectively. Ford's terminology was perfectly acceptable, though, because compared to its other trucks, these were indeed heavy and extra-heavy duty vehicles.
The third new component in Ford's marketing strategy was a simple yet valuable and effective nominal size rating system. The trucks were badged F-1 (for the 1/2-ton models) through F-8 (for the three-ton jobs), the "F" having no more significance than to stand for Ford. The system indelibly stamped various gross vehicle weight (GVW) ratings in the minds of buyers, sellers, and users of Ford trucks. (At the time, the industry recognized seven standard weight classifications, instead of the eight currently in use.)
Ford's long-term goal was to overtake both archrival Chevrolet and International. Chevrolet was the industry leader in light duty and medium duty trucks, while International dominated in the higher end of the medium duty class and in heavy duties. Ford's F-1 through F-6 vehicles were aimed directly at Chevrolet, while the new F-7 and F-8 models targeted International. The idea was hardly original; Ford picked it up from International. But Dearborn's effective use of this model identification system was later duplicated by the rest of the industry.
Go to the next section to read about Ford's 1948 light-duty F-Series trucks.
For more information on cars, see:
Classic Cars

New Car Search

Used Car Search