1948-1949 Ford F-Series Truck Features and Prices
The 1948-1949 Ford F-Series trucks came in eight standard paint colors: Barcelona Blue, Medium Luster Black, Feather Gray, Glade Green, Monsoon Maroon, Rotunda Gray, Vermilion, and Tucson Tan. Wheels were painted black, as were the bumpers and running boards (except on panels, which had body-color running boards). The recessed area around the grille on early 1948s was painted tan; late 1948 production used argent paint. Also, the grille bars were chrome covered up to mid-July, after which they were argent with red pinstriping.
Two L-head engines were available for the new light duty trucks. The 7H version of Ford's 226-cubic-inch six adopted for 1947 passenger cars spread to the 1948 truck line. It was rated at 95 horsepower at 3300 rpm. For an additional charge, truck buyers could opt for the 239-cube V-8 that made 100 horsepower at 3,800 rpm. A three-speed transmission with a floor shift was standard in the F-1, with heavy duty three-and four-speeds available as extra cost options. F-2s and F-3s came with the four-speed standard.
Prices ranged from a little more than $900 for a six-cylinder F-1 chassis-and-cowl unit to almost $1,500 for an F-3 stake truck with V-8. Despite price increases of roughly $30 to $60 compared to the 1947 trucks, sales of the F line were brisk. In 1947, Ford built 62,072 1/2-ton trucks and another 29,343 Tonners. The 1948 F-1 range drew 108,006 orders, 13,255 F-2s were assembled, and F-3 output came to 22,069 units. All told, Ford had its best year for truck production since 1929. But Chevrolet's "Advance-Design" trucks were still immensely popular and broke Ford's 19-year-old production record.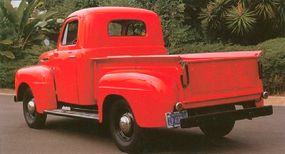 With attention at Ford shifted to the company's first new postwar car lines, there were no major changes for the 1949 trucks. The easiest ways to distinguish a 1949 F-Series from a 1948 are its body-color wheels (on F-1s) and the elimination of the red striping on the grille bars. All body colors carried over.
Truck production for the industry as a whole declined in 1949 from the torrid pace of 1948. Ford's total was down, too, but not as much as the industry average. F-1 assemblies totaled 104,803. Output of F-2 and F-3 vehicles came to 12,006 and 21,200 units, respectively.
On the next page, find out about 1950 and 1951 Ford F-Series trucks.
For more information on cars, see:
Classic Cars

New Car Search

Used Car Search