In early 1946, Dodge announced an addition to its lineup as "the truck that needs no roads."The truck in question was the 1946-1968 Dodge Power Wagon, model WDX, a new multipurpose vehicle born from Dodge's experience building four-wheel-drive trucks for American and allied military forces in World War II.
It was then one of only two factory-complete general-use 4×4s available in the USA -- the other being the Willys Jeep -- making it a pioneer in bringing the capability of four-wheel drive to a broader audience.
No doubt Dodge executives of the 1940s couldn't have imagined the huge market for personal-use four-wheel-drive trucks that exists today. When the Power Wagon was introduced in January 1946, the division described it as a one-ton general-purpose truck designed for off-highway operations on unimproved roads.
Neither, it's safe to assume, could they have foreseen the Power Wagon's staying power. Despite "war surplus" looks and L-head powerplants, it would remain on the domestic scene until 1968, then last another decade for export under a U.S. government program.
Four-wheel-drive trucks were hardly a new thing when the Power Wagon came out. They had been around since the time of World War I. However, these were heavy-duty vehicles strictly for commercial or military use. Beginning in the 1930s, it was possible for the owners of light trucks to have conversions to four-wheel drive performed by firms like Marmon-Herrington, but these special-order vehicles tended to be bought by businesses or agencies with very specific needs. "Average Joes" had little exposure to 4×4s -- at least until they became "G.I. Joes."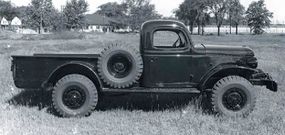 World War II impressed the capability of multiaxle drive upon many a soldier who was served by -- or even fought with -- four- and six-wheel-drive vehicles. Willys' little ¼-ton scout car became a battlefield legend and spurred the company to place the Jeep CJ on the postwar consumer market.
Dodge, meanwhile, had a military truck it thought it could discharge into civilian life as well. In fact, the cover of the first Power Wagon sales brochure touted it as "The Army truck the boys wrote home about ... now redesigned for peacetime use."
Still, the Power Wagon's martial roots ran deep. Dodge's involvement with four-wheel-drive military vehicles began in 1934 when it built a ½-ton cargo truck for the Army. It had the world's first drive system that could be conveniently shifted in and out of four-wheel mode by working a control lever in the cab.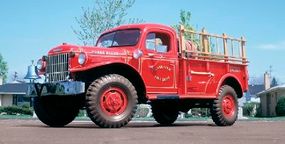 In 1940, Dodge fulfilled an Army contract to design and build ½-ton 4×4 military trucks in several styles using many commercial truck parts. Designated the T202 series, they came with essentially stock front-end sheetmetal that gave them a "civilian" appearance. Similarly, their 116-inch wheelbase and 201-cubic-inch 79-horsepower six-cylinder engine matched those found on Dodge ½-ton trucks then plying American roads. A four-speed transmission, optional on general-market trucks, was included on the military models.
The following year, the T202 was replaced by the T207-series trucks. Again rated as ½-tonners, they featured a military-specific hood, grille, and fenders. These trucks were powered by a 218-cubic-inch six of 85 horsepower taken from Dodge's ¾- and one-ton commercial models, but some T211s and all T215s (both mechanical upgrades of the T207) adopted a 92-horsepower 230-cubic-inch L-head six.
For more on the 1946 Dodge Power Wagon, see the next page.
For more information on cars, see:
Classic Cars

Consumer Guide New Car Search

Consumer Guide Used Car Search