1903-1913 Ford Trucks
What would quickly become one of the world's largest automobile manufacturers got its start on June 16, 1903, when Henry Ford and his associates founded the Ford Motor Company.
Production of the firm's first car, the two-cylinder Model A, began shortly thereafter, and was joined the following year by three new cars: the two-cylinder Model B and Model C, and the four-cylinder Model F. By the end of 1904, more than 2000 Fords had been built.
With sales of cars booming, Henry Ford had little reason to enter the commercial market, but he did make a few attempts to produce specialized vehicles during the early part of the century. The first example, based on a Model C Ford, was introduced in 1905. Called the Ford Delivery Car, its $950 price attracted few buyers, and less than a dozen were built before production ceased.
Ford's first vehicle intended for cargo use was the Delivery Car, introduced in 1905. Based on a Model C chassis, only a handful were built before the body style was discontinued. The Delivery Car reappeared in similar form for 1912 on a Model T chassis, as shown here.
Ford's second attempt at a commercial vehicle was called the Ford Delivery Van. Arriving in 1907, it was based on the four-cylinder Model N car introduced the previous year. Unfortunately, it only lasted about as long as its predecessor -- and sold about as many copies.
Yet neither of these failures deterred Henry Ford from trying to establish a niche in the automotive world for his company and its products. And he would carve out more than just a niche with what would become one of the most famous and successful cars of all time: the Model T.
Introduced in October 1908 as a 1909 model, the venerable Model T was hardly revolutionary, being based heavily on the three-year-old Model N. But it struck a chord with buyers, its simple, reliable design being offered in a range of body styles with seating for two or five passengers. Furthermore, Ford dropped its previous four car lines to concentrate on the T, which allowed for increased production. And with that, Henry Ford was on his way to becoming an automotive icon.
But there was another event that took place in 1908 that would also make an indelible mark on the automotive landscape. That was when William C. Durant established General Motors, which would later become Ford's chief rival.
In 1910, Henry Ford transferred the production of his Model T from the Piquette Avenue plant in Detroit to a much larger facility in nearby Highland Park. Plants in Kansas City, Missouri; Long Island City, New York; and Minneapolis, Minnesota, would join it a few years hence.
Ford once again tackled the commercial end of the market in 1912 with two light-duty vehicles. One was the Commercial Roadster, which was basically a Model T Runabout with a removable rumble seat that could be replaced by an aftermarket-sourced commercial body.
The other was the Model T Delivery Car. While more popular than Ford's previous two commercial vehicles, sales still weren't sufficient to convince Henry Ford to make a serious commitment to this market segment.
In 1913, the Model T became the first car to be built on a moving assembly line. This was a major advancement that greatly reduced the cost of manufacturing and helped Ford keep up with increasing demand. That year also saw the opening of plants in Chicago, Illinois, and Memphis, Tennessee.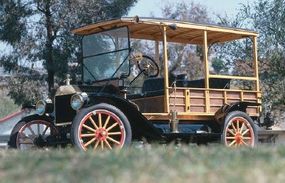 Station wagons would not be offered by Ford for some time, but forerunners such as this Depot Hack, so named because they ferried passengers to and from a train depot, were built by a number of outside suppliers. This one rides a 1914 Model T chassis.
The Teens brought further additions to the Model T. Learn how Ford changed this truck in the next section.
Want more infomation about Ford trucks? Try these:
1990-1999 Ford Trucks

1960-1969 Ford Trucks

1950-1959 Ford Trucks

1940-1949 Ford Trucks

Consumer Guide Auto New Large Pickup Truck Prices and Reviews

Consumer Guide Auto New Compact Pickup Truck Prices and Reviews

Consumer Guide Auto Truck Buying Guides

Consumer Guide Auto Used Large Pickup Truck Prices and Reviews

Consumer Guide Auto Used Compact Pickup Truck Prices and Reviews