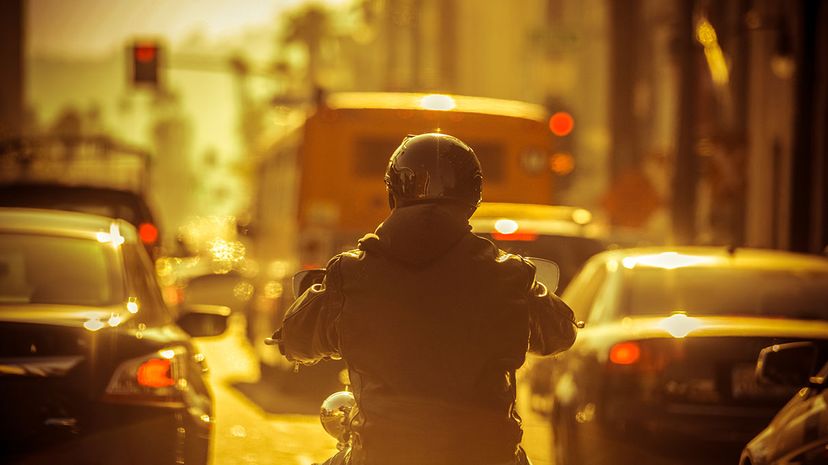 Short answer: motorcycles.
But on this episode of CarStuff, hosts Ben Bowlin and Scott Benjamin aren't interested in the short answer. Instead, they go full throttle into the long answer. Which is still motorcycles, but they pack in a lot of pertinent information as to why that's so, and they discuss numerous ways that motorcycles could be and are becoming safer.
First, the statistics: Per mile traveled in 2014, there were 27 times more deaths on a motorcycle than in a car, according to June 2016 CrashStats published by the National Highway Traffic Safety Administration. In 2015, per 100 million miles (160 million kilometers) traveled, passenger cars had a 0.89 passenger fatality rate while motorcycles had a 25.38 occupant fatality rate, notes a 2015 report. That means that 4,976 motorcyclists died and 88,000 experienced injuries caused from riding in 2015.
So yes, motorcyclists are engaging in a riskier activity than driving a car. And some things you can't change, like the fact that a car is a steel cage and a motorcycle is not. But some factors can mitigate the risk.
Not surprisingly, wearing a helmet is the most important thing riders can do to stay safe on their motorcycle. In fact, helmets saved 1,772 lives in 2015 alone, and 740 more lives could have been saved if the rider had been wearing a helmet during the accident, according to CrashStats. Only 19 states and the District of Columbia have mandated universal helmet laws, however.
And not every motorcycle is equal when it comes to accident rates. Supersport motorcycles are made for consumers but built like racing bikes, with a much lighter weight, as well as impressive speed and acceleration. They also have a driver death rate that's four times higher than cruiser or standard motorcycles, notes this joint research report. Sport motorcycles, which have a bit less acceleration and handling than those of supersports, have twice the driver death rate of cruisers or standards.
But as Scott and Ben point out in this episode of CarStuff, there are some nifty solutions to help make motorcycles safer. Features like adaptive headlights, which can calculate angles to direct lights up or down as a motorcycle leans into a curve, are available now, and wearable air bags (in jackets or gear) also are on the market.
Interested? Listen to the podcast to hear more, and safe travels, no matter what your ride is.