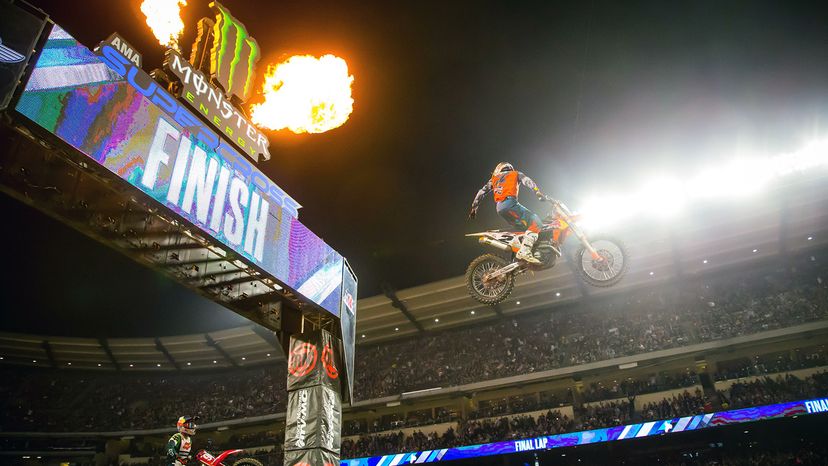 Supercross is one of the most competitive off-road motorcycle racing championships in the world today.
Feld Entertainment
There are two ways to watch a Supercross race. You can focus on a particular spot on the track, or you can follow a specific rider. Regardless, you'll miss things in this fast-paced sport. We were lucky, though, and got a behind-the-scenes look at the 45th Supercross season opening race. It's known as Anaheim 1 (A1), and this year it was held Jan. 5, 2019, at Angel Stadium in Anaheim, California.
And as soon as the gates dropped for the first qualifying round, it was clear that a few of the turns on this track would cause the racers trouble. Why? Rain. But let's back up a bit and talk about the history of Supercross and everything that goes into making Anaheim 1.
History of Supercross
Supercross is a high-flying motorcycle sport that has roots in the outdoor terrain tracks of motocross. Its history dates back well into the '20s when the American Motorcyclist Association (AMA) was promoting motorcycles. When motorcycle racing was popular after World War II, races were held on dirt ovals and horse tracks across the U.S. But the bikes at that time were too heavy and underpowered to handle that terrain.
Things changed by the early 1960s, when European experts brought their skills to North America, and in just a few years, motocross took hold. In 1971, the term "supercross" was coined by combining the words "super bowl" and "motocross". Bikes also got faster and tracks more technical. Riders also became household names.
Today, Supercross is one of the fastest-growing motor sports in the world, and includes 17 races between January and May. The racers compete on custom-designed tracks that launch them up to 30 feet (9 meters) in the air and cover distances of up to 90 feet (27 meters) — all while riding on 225-pound (102-kilogram) motorcycles. More cool stats from Supercross include:
A total of 44 riders split over two main events (250SX + 450SX)

Bikes from six manufacturers race, including Honda, Husqvarna, Kawasaki, KTM, Suzuki and Yamaha

Races are held in 13 states over 17 weeks

52 tractor-trailers travel 981,448 miles (1.57 million kilometers) during the season
Anaheim 1
Back to Anaheim 1. The annual season kickoff race is typically a wild one because many of the riders are on new bikes, racing for new sponsors and nobody knows how fast the others will push it. This year's A1 proves to be no different, as rain rolled in and turned the track to mud. "The track, from the start to the finish, changed drastically," explains rider Justin Barcia, who took first place at the A1 race.
It takes a 20-member crew 60 hours to construct the track, which is comprised of 5,500 cubic yards — or 26 million pounds — of dirt. (Incidentally, that dirt is kept in parking lot 4B of Angel Stadium, under a layer of asphalt during baseball season.)
The A1 track itself is as much a character in the Supercross universe as the riders and the bikes. "No Supercross track has ever been duplicated," with the exception of a retro-themed event, according to Supercross director of operations Dave Prater. This year it included a triple jump that was 70 feet (21 meters) long — riders achieved heights of 32 feet (9.7 meters).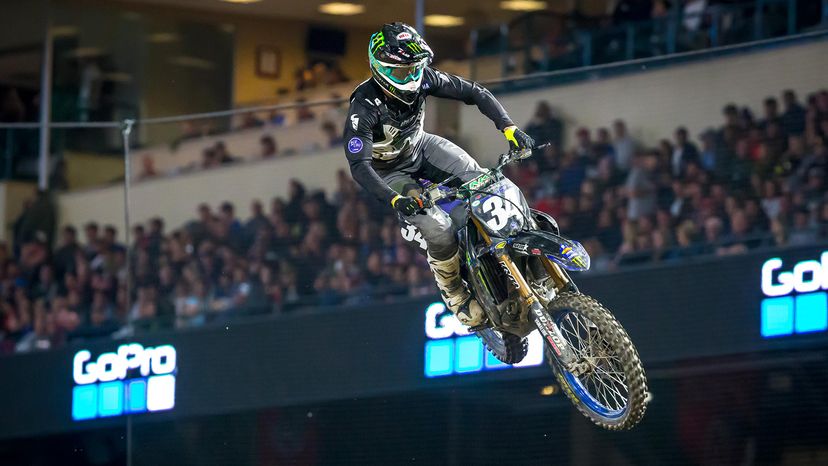 Riders compete on tracks that launch up to 30 feet in the air and cover distances of up to 90 feet.
Feld Entertainment
The Riders and Bikes
And speaking of the riders, they do get to practice on the dry track before the actual A1 race, but as rider Barcia mentions, that aforementioned rain can really mess up their plans and make the long hours of practice, well, for nothing. That's because, as Yamaha team manager Jimmy Perry explains, the bikes can pick up as much as 65 pounds (29 kilograms) of mud when the track is wet. All that mud throws off the bike's performance, and the track's fastest lines will be totally different when it's wet.
The bikes may seem super-hyped, but they're really just built from production bikes. No one-off builds are allowed, a rule that's been in effect since 1986. That means they're fairly close to what you can buy from a dealership, except for the suspension components, which are tuned to every rider's preference.
"You have to take your bike and work on your weak points to make them as strong as you can" with money and manpower," explains Yamaha's Perry. "It's 80 percent rider, 20 percent bike."
"There is no perfect setup. None," former Yamaha rider Ryan Villopoto says.
Supercross Goes Super High-tech
During the past three seasons, teams have been able to track and compare riders in real time, thanks to an advanced GPS antenna and sensors offered by LITPro. The LitPro allows them to get all kinds of stats they can view right on their iPhone or iPad. It tracks the riders' positions on the course throughout the entire race. For example, the system can follow a jump from takeoff to landing and can sometimes even predict the winner of a race by digesting various analytics.
But teams don't rely only on technology to better their racers. They also count on the expertise of personal trainers. Aldon Baker, a trainer for four Supercross riders, says he works with his clients to build overall cardio and strength. In terms of racing, it helps improve their endurance, sprints and starts. On race days, he typically warms them up on a spin bike. Spin bikes are his preferred training method because they're low impact and can travel easily. Baker's clients follow a pescatarian diet, with an emphasis on veggies and high-quality protein from fish.
It's strict, Baker admits, but he acknowledges that he only has so much control. "You can't sit the guy down and program him like a robot," he says.