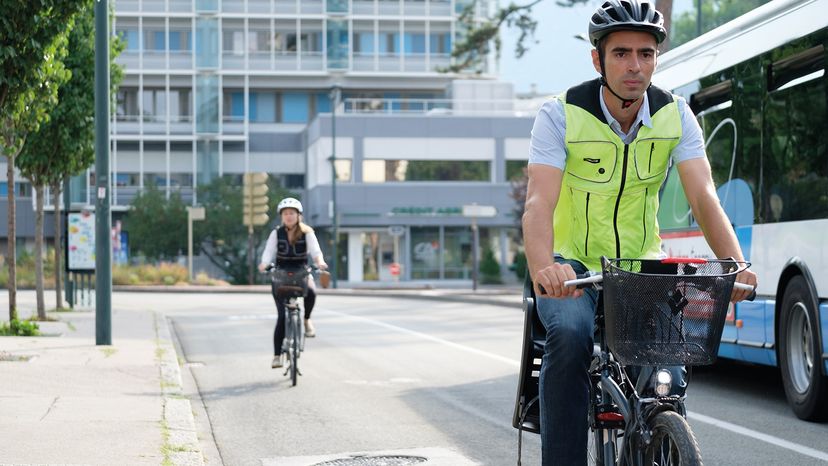 Car air bags have proven their usefulness time and time again. From 1987 to 2015, frontal air bags saved nearly 45,00 lives in the United States, according to statistics from the National Highway Traffic Safety Administration (NHTSA). They work by inflating within less than 1/20th of a second when a car is involved in a moderate to severe crash. They're designed to work with your seatbelt to reduce the chances that you will hit your head or upper body during the crash.
But what if you're riding, say, a motorcycle? Or even a horse? Well there are actually wearable air bags designed to protect you, as well. We'll explain.
It's no secret that motorcycle accidents are often fatal. The NHTSA National Center for Statistics and Analysis 2016 report determined that a motorcyclist is 28 times more likely to die in road accident than a passenger in a car.
Many motorcyclists do protect themselves with helmets and heavy leather clothing that's fitted with impact-resistant plates. But personal air bags in jackets or vests may prove to be a safe and comfortable alternative. Helite, a French company founded in 2002, is one of the oldest developers of personal air bag technology for bicyclists and motorcyclists, equestrians, skiers, pilots and senior citizens.
The Helite Airbag system for motorcyclists uses a lanyard attached to both the motorcycle and vest. If the lanyard disengages from the motorcycle, it releases a pin and the air bag inflates in less than 1/10th of a second — and stays inflated for 15 to 20 more seconds to protect a rider during a crash. The equestrian airbag works similarly. Riders attach the lanyard to their saddle stirrup strap. If the rider falls or is thrown, the lanyard disengages the pin and inflates the air bag. Several other companies, including U.S.-based Skidbike, offer personal air bags using this same type of approach.
However, Helite has another personal air bag specifically made for cyclists that uses a different technology. Helite's B'Safe cycling vest uses sensors in both a wearable vest and also mounted under the bicycle's seat to analyze the cyclist's motion and shocks. When they detect something abnormal, they "communicate" and assess the situation. If they sense an accident or fall, they trigger the vest to inflate. In February 2019, B'Safe won the 2019 French Innovation Award for Road Safety Innovation in the two wheels assistance category.