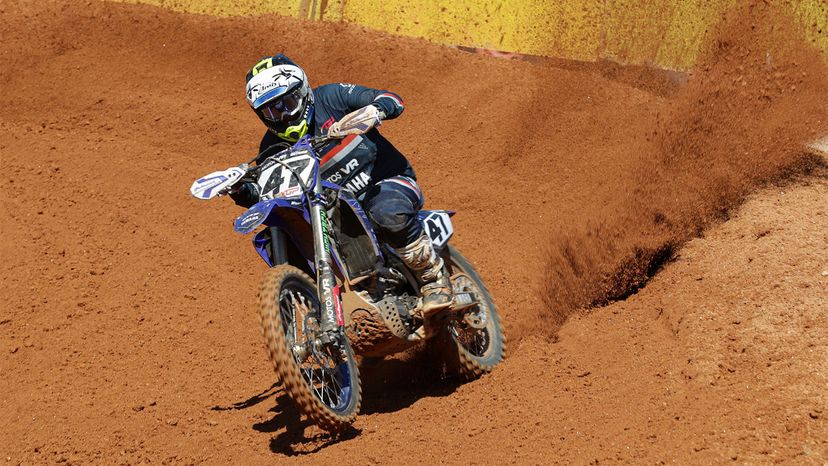 As the sport of dirt bike racing has continued to grow in popularity, so too have the number of companies manufacturing dirt bikes.
Paulo Oliveira/NurPhoto/Getty Images
Racing dirt bikes is a sport that continues to grow in popularity. Racing around a dirt track at breakneck speeds and taking high octane jumps is a real thrill for a lot of people. And spectators seem to really enjoy the races too. And as the sport of dirt bike racing has continued to grow in popularity, so too have the number of companies manufacturing dirt bikes for people to race. But which bikes are the best for racing? Which makes and models of dirt bikes would be best to buy and use for races? Here's a list of the 10 best, and most reliable, dirt bike brands:
10. Husqvarna
The Husqvarna company is mostly known for making lawnmowers and lawnmower parts. But they also have gotten into the dirt bike manufacturing business in recent years with some success. Today, Husqvarna builds motorcycles such as the TE 300, FE 300, Endura and Heritage. All of their motorcycles standout because of their light weight design, great traction and powerful engines. They are also stylish and cool looking. Interestingly, Husqvarna began its foray into two wheeled vehicles by making bicycles. From there they branched out to producing dirt bikes. Now, Husqvarna dirt bikes are popular and in high demand with younger riders who like the look and feel of the dirt bikes. The reliable engines and inexpensive parts also help to make these bikes popular.
9. Bultaco
If you're looking for a dirt bike that is a little more old school, then checkout Bultaco. The company has been in the dirt bike manufacturing business for more than 40 years, and that experience shows. Bultaco launched its first dirt bike on March 24, 1959, with the 125cc Tralla 101 dirt bike. Over the years, Bultaco bikes have won some of the biggest dirt bike competitions in the world, including taking seven of 10 finishes in the Spanish Grand Prix in the same year. Throughout its history, Bultaco has retained an innovative approach and has always been out front when it comes to the latest technologies. Today, Bultaco is a revered brand in many bike circles, and considered one of the top bike makers anywhere in the world. And, in addition to motorcycles, Bultaco also manufactures dirt bike accessories, clothing and tools for repairing the machines. Single-cylinder, two stroke engines tend to be the preferred type in Bultaco bikes, and it is an approach that has served the company well. Those engines tend to perform particularly well on rough roads.
8. Hyosung
Hyosung dirt bikes have been around since 1978. And while they have long been popular with dirt bike aficionados, the brand has broadened its appeal in recent years and now reaches more people than at any time in its history. The key to Hyosung's widening appeal has been the fact that the company has moved to making larger sized bikes at lower price points. New dirt bike and motor-cross riders especially like the big, durable Hyosung machines. Models of the bikes include the Hyosung GD, Hyosung GT, Hyosung RT, and the Hyosung GV650. Most are large but light weight and flexible, which is important for new dirt bike riders who are braking in a machine. Hyosung is now a top motorcycle brand throughout Asia, but is spreading in Europe and North America too.
7. Maico
Maico is by far one of the oldest dirt bike brands around. The company's first dirt bike rolled off the assembly line in Germany back in 1926, and the company has been going strong since. In the mid-1950s, Maico began making two stroke scooters. The Maico Motocross and Maico Endura brands are among the most popular dirt bikes ever made and are considered classic bikes in both the United States and Europe. Today, Maico dirt bikes continue to be popular and have earned a reputation for great fuel economy, quality manufacturing and a reasonable price. Plus, Maico has consistently designed and made dirt bikes that have excellent acceleration and speed, which never goes out of style. Dirt bike riders today appreciate a fast ride as much as those from past generations.
6. KTM
For style and sex appeal, people need only look at the KTM dirt bike. And it should come as no surprise that KTM makes an attractive dirt bike given that the company also makes world class sports cars. Still a relatively young company, KTM was started in 1992 in Austria. Yet in less than 25 years, KTM has established itself as a popular dirt bike brand around the world. Their innovative technologies and wicked designs have drawn legions of fans in the dirt bike community. The KTM Sport Motorcycle has been one of the company's top selling dirt bikes since its first iteration back in 2004, rivaling even the Duke series of road motorcycles that the company makes. The four stroke engine and rear swing on the Sport Motorcycle make it great for racing even in forested areas. Plus, it is hard to argue with this motorcycles cool looks and styling. A very appealing dirt bike from any angle.
5. Kawasaki
Kawasaki is a legendary motorcycle company in every respect. The engineers at Kawasaki have made several legendary bikes, including the Ninja, the 500SS Mach III, and the KZ 900. And while Kawasaki is known for making street, touring and racing motorcycles, they also manufacture an impressive line of dirt bikes. And like all motorcycles branded with the Kawasaki moniker, the company's dirt bikes are rugged, durable and pack a punch. They also have outstanding handling, suspension and torque. Great for racing on any type of dirt track, Kawasaki dirt bikes are good for beginners and experienced riders. A legendary dirt bike that is always fun to drive and never gets old to race.
4. Honda
Japanese automaker Honda is one of the largest car manufacturers in the world. The company makes everything from automobiles to heavy equipment used in construction. Honda also makes motorcycles, including dirt bikes. Some of the more popular Honda dirt bikes include the CRF-450R, which is great for experienced riders, and the CRF-50F for kids and newer motorcyclists. And what tends to set Honda dirt bikes apart from the crowd are its strong, powerful and durable engines. People who choose Honda dirt bikes praise the smoothness of the ride, along with the power and pick-up of the vehicles. As with all vehicles made by Honda (cars or motorcycles) their dirt bikes have exceptional engineering and are known for stability and not breaking down. And those aspects are worth their weight in gold to many dirt bike enthusiasts.
3. Beta
Beta is a smaller specialty motorcycle manufacturing company based in Italy. And while the company is not a global behemoth on the order of Honda, it has made a name for itself with the dirt bikes it makes. Beta began manufacturing motorcycles in 1948 and continues to be a top producer of high-end bikes today. Beta distinguished itself from the very beginning by making dirt bikes that had unusual design, style and unique features. In the late 1960s, sales of Beta bikes moved beyond Italy as demand for their motorcycles grew. In the 1970s and 1980s, Beta made classic machines such as its Beta Alp 200 and its Enduro dirt bike. These dirt bikes proved great for motor cross races. Beta motorcycles have a fantastic reputation. But what they are most known for is their superior balance and suspension, which sets them on fire on dirt race tracks.
2. Suzuki
Like Honda, Suzuki is a large scale Japanese auto manufacturer. However, unlike Honda, cars are not Suzuki's main product. Motorcycles are the company's bread and butter. Headquartered in Hamamatsu, Japan, Suzuki is one of the 10 biggest manufacturing companies in the whole world. But Suzuki's focus and mainstay continues to be producing all makes and models of motorcycles. And this includes dirt bikes – both two and four wheelers. Suzuki also produces standalone motorcycle engines, and has a global presence in the motorcycle industry. And when it comes to dirt bikes, Suzuki is one of the top brands. Their DR-Z400 and DR-650 bikes are exceptional, and some people refuse to ride any other type of motorcycle. As well, Suzuki's dirt bikes are among the best for training beginners. Many a top dirt bike rider has learned to handle a motorcycle on a Suzuki. And, Suzuki dirt bike are economical and have a reputation for needing little maintenance. A solid dirt bike maker in every respect.
1. Yamaha
And the best dirt bike manufacturer, with the best reputation, goes to Yamaha. Yet another Japanese company, Yamaha has earned a reputation over the decades for being a leader and innovator when it comes to making dirt bikes. Of course, Yamaha also makes boats, scooters, personal watercraft, fishing boats, water pumps, multipurpose engines, and car engines. They are a truly diversified manufacturing company. And, since their founding in 1955, Yamaha has made dirt bikes. Today, dirt bike enthusiasts and racers are always excited when a new Yamaha dirt bike comes on the scene. Popular Yamaha dirt bikes include the YZ-250, the WR-250-F and the YZ-125. Small, light and peppy, these are dirt bikes that have won numerous races, and which riders love. Exceptional handling and suspension puts the Yamaha brand of dirt bikes in a league of their own. They are one of the very best dirt bike makers in the world.