Volkswagen Karmann-Ghia Year-By-Year Changes
Volkswagen Karmann-Ghia year-by-year changes hued to the VW tradition of slow evolution, and in some years, no change at all.
Volkswagen Karmann-Ghia year-by-year changes were particularly languid when it came to the styling, packaging, and marketing of the cars, though both the coupe and convertible had their fender lines and headlamp height raised slightly in 1959.
Thereafter, most every successive change made to the Beetle was also made to the Karmann-Ghia. An exception was the Super Beetle's MacPherson-strut front suspension, which would not fit under the Karmann-Ghia's bodywork. However, the front anti-roll bar first seen on the Karmann-Ghia was adapted for 1960-model Beetles.
That same year, Karmanns got a new steering wheel that was dished for safety, and a hydraulic steering damper to quell kickback. A vacuum-operated clutch was also introduced as an option, though sources differ as to whether availability was confined to European-market cars.
For 1961, horsepower jumped to 40 at 4900 rpm and the final-drive ratio changed from 4.43:1 to 4.37:1 to slow engine speed, through the ratios of first and fourth gears were tightened in an effort to preserve "acceleration."
Engine size increased to 1.3 liters for 1966 and horsepower rose to 50 at 4600 rpm. There was another bump to 1.5 liters and 53 horsepower for 1967, and a step to 1.6 liters and 57 horsepower for 1970, and finally, to 60 horsepower in 1971.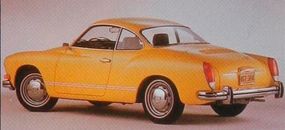 The 1600s were the quickest Karmann-Ghias, capable of 0-60 mph in about 21 seconds and a top speed of around 82 mph. A switch in final drive for manual-transmission models in 1972 increased top speed to 90 mph. The 1600s also had better stopping power, thanks to their standard front disc brakes. When VW revamped its power ratings for 1973, switching from gross to net figures, the Karmann-Ghia was rerated to 46 horsepower.
Safety came to the fore in 1968 when, per new U.S. regulations, Karmann-Ghias adopted round side marker lights on the rear fenders, as well as an energy-absorbing steering wheel and steering column, and front seats with integral headrests. An external gas filler door appeared on the upper front bodywork.
VW's semi-automatic transmission was offered
as an option starting in 1968, and as on the Beetle, cars ordered with it got the new double-jointed rear suspension.
Demand was still relatively healthy into the early 1970s, but the Karmann-Ghia's days were numbered. Karmann needed all the space it could find to build the brand new VW Scirocco sports coupe, and ceased production of the Beetle-based cars in 1974.
It had built 283,501 coupes and 80,897 convertibles. An additional 23,577 coupes had been built at VW's plant in Brazil. Sales in the U.S. had peaked in 1970 at 38,825, of which 5,873 were convertibles.
Concurrent with its production of the Ghia-styled, Beetle-based cars, Karmann also built a four-passenger coupe based on the Type 3 1500-series sedan introduced in 1961. This coupe was called the Type 34 and shared the wheelbase and air-cooled, rear-engine running gear of the sedan upon which it was based.
The Type 34, however, lacked the visual charm of the Karmann-Ghia models and it sold slowly. Buyers were cool to the styling, which had nice proportions and an airy greenhouse, but was awkward around the front where two large outboard headlamps and two smaller driving lamps flanked a metal Roman nose.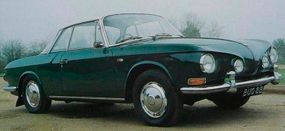 The Type 34 debuted in 1961 and was sold primarily in Europe. Ghia built a two-seat convertible version of the Type 34, but it did not go into production. With demand never very strong, production of the Type 34 coupe was halted in June 1969, after just fewer than 42,500 had been built.
It is the original Karmann-Ghias that introduced the world to the idea of a sporty Volkswagen. If the Beetle was the people's car and the Volkswagen bus was the people's van, then it might be acceptable to characterize the Karmann-Ghia as the "people's Porsche." Don't try to race a Porsche with one, however. You'd lose.
For more on Volkswagens and other great cars, check out:
New Volkswagen Prices and Reviews

Used Volkswagen Prices and Reviews

Volkswagen Bus

Porsche Cars