The Volkswagen Karmann-Ghia, a sporty coupe and convertible produced between 1955 and 1974, was a most unexpected vehicle from a company that had built its reputation on the purely functional Volkswagen Beetle. The Volkswagen Karmann-Ghia was an automobile in which style and driving fun took precedence.
Indeed, it seemed to make little obvious marketing sense when the German company sprung on the world the sinuously shaped Volkswagen Karmann-Ghia coupe in 1955. By 1974, however, when the last Volkswagen Karmann-Ghias were delivered to the U.S., 387,975 had been built, a fine number for a specialty car from an automaker not known at the time for driving excitement.
Not that the Volkswagen Karmann-Ghia was in Porsche's league. After all, Volkswagen Karmann-Ghia used the same chassis as the Beetle, the same economy-car mechanicals, even had the same air-cooled-engine thrum. But the Volkswagen Karmann-Ghia had something no VW up to that time had ever had: style.
The car's name summarizes a very complicated pedigree. VW in the early 1950s was a rapidly growing West German carmaker. Karmann was a long-established West German coachbuilder and already was building Beetle convertibles. Ghia was a top Italian styling house.
Added to this alliance was an American connection -- one that some Europeans are reluctant to admit even today -- and the result was an unlikely recipe for success.
The Volkswagen Karmann-Ghia story starts with Mario Boano and Luigi Segre of Carrozzeria Ghia. The Turin coachbuilders had done some confidential work for VW, suggesting refinements in Beetle styling that VW mostly ignored. Neither did VW seem to like any of the various Beetle proposals put forth in Germany by Dr. Wilhelm Karmann. An increasingly discouraged Karmann approached Ghia for inspiration.
Gian Paolo Boano, Mario Boano's son, had recently bought a Beetle in Paris and driven it to Turin. The Ghia craftsmen removed the conventional two-door Beetle body, and within five months had replaced it with a newly fashioned coupe body shell.
The prototype was transported to Karmann's factory in Osnabruck where, on November 16, 1953, it was examined by VW executives, including top man Heinz Nordhoff. The VW people were intrigued, and wanted to know more, especially about the styling. They'd be surprised to know its geniuses.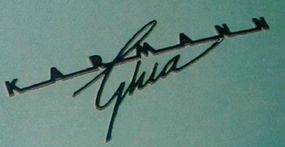 Go to the next page to learn more about the origins of the Volkswagen Karmann-Ghia.
For more on Volkswagens and other great cars, check out:
New Volkswagen Prices and Reviews

Used Volkswagen Prices and Reviews

Volkswagen Bus

Porsche Cars