Volkswagen Karmann-Ghia Performance and Price
Volkswagen Karmann-Ghia performance and price reflected the values VW placed in its cornerstone product, the Beetle.
VW insisted the Karmann-Ghia's performance mirror that of the humble Bug; some sources say the company didn't want to be goaded into comparisons with genuine sports cars.
Indeed, one Karmann-Ghia ad pictured a coupe adorned with stripes and numbers on the doors, as if poised to race. "You'd lose." said the tag line. "The racy-looking car in the picture would have trouble beating a Volkswagen. Because it is a Volkswagen."
Nonetheless, the Karmann-Ghia had a much smaller frontal area than the Beetle, and the originals could hit a top speed of around 72 mph, maybe 10 mph higher than the sedan. Acceleration was no faster: Both cars could consume up to 36 seconds reaching 60 mph from a stop, and the transmission shifted with same rubberiness through the gears. But both had great straight-line traction in muddy or icy conditions.
Drivers with little exposure to genuine performance automobiles might have felt that the Karmann-Ghia's light steering and low-slung stance gave it sports-car moves. But despite the presence of the front anti-roll bar and a recommended rear-tire pressure three-pounds-per-square-inch above that of the Beetle, the Karmann really wasn't any faster on a twisty road than a well-driven Bug.
And it could be just as perilous in wet weather or when cornered too hard, no surprise in a car that shared the Beetle's heavy rearward weight bias and swing-axle rear suspension.
So while performance of the Volkswagen Karmann-Ghia was measured by the Bug's, the car's price was a calculated measure above.
The Karmann-Ghia always cost more than the equivalent Beetle. A 1956 Karmann-Ghia coupe, for example, listed for $2,395, $900 more than a Beetle sedan. And the little coupe was more expensive to repair if the bodywork was damaged in an accident.
But the public liked what it saw, thought the value good, and made haste to place orders. Production took time to build up, but the 10,000th car was on the road by the autumn of 1956.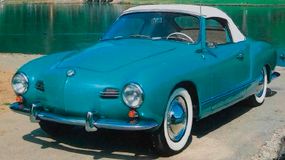 U.S. dealers were plagued by early supply problems, though VW didn't really promote the Karmann-Ghia in America until 1961. Those who wanted one in these years sometimes had to wait two years to take delivery.
A two-seat convertible version was introduced in Europe in 1957 and came to the U.S. for 1958. It looked exactly the same as the coupe below waist level. The double-layer soft top was constructed with the same attention Karmann lavished on the Beetle cabriolets, and prices ran about $300-$400 more than contemporary Karmann-Ghia coupes.
For more on Volkswagens and other great cars, check out:
New Volkswagen Prices and Reviews

Used Volkswagen Prices and Reviews

Volkswagen Bus

Porsche Cars