Volkswagen Karmann-Ghia Styling
Volkswagen Karmann-Ghia styling had a mixed parentage. Ghia was happy to take credit for the shape, and while the true details of the origins Volkswagen Karmann-Ghia styling are lost to history, it seems there was much of American designer Virgil Exner in it.
Exner had established a distinguished track record as a stylist with Pontiac and at the Raymond Loewy Studio, where he headed the Studebaker account. In 1950, Exner came to Chrysler, first working in the advanced design studio, and then in 1953, taking over as the automaker's styling director.
Shortly after arriving at Chrysler, Exner had approached Ghia about producing prototypes, concept cars, and design studies to spice up the image of Detroit's third-largest automaker. Ghia agreed, and went on to build several show cars and prototypes in Italy under Exner's direction.
The first of these was the Chrysler K-310 concept car of 1952. (K was for Chrysler President Kaufmann T. Keller, the number for a theoretical 310 horsepower V-8).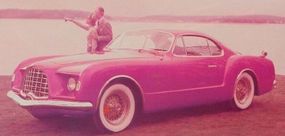 The K-310 begat the Chrysler/Ghia D'Elegance concept car of 1953. Built on a 115-inch wheelbase, the sleek D'Elegance had a graceful rear-roof pillar treatment and a prominent lower-body line that swept into a rear-fender bulge. The Ghia De Soto Adventurer, which Exner himself used as a road car for three years, was a development on the same theme.
Although Chrysler commissioned a run of 40 D'Elegance coupes, the effects of the Korean War pared this back to 25 cars, which left Ghia with unused capacity and its designers with time to think. The result was that coupe prototype on the VW Beetle platform that VW executives scrutinized in November 1953.
It looked a lot like the D'Elegance scaled down to fit the Beetle's wheelbase and track. Whether it was a copy of Exner's D'Elegance concept car is less certain. Some automotive historians believe Ghia was simply applying similar themes to two different projects.
Nonetheless, the cars had obvious similarities, particularly the general proportions of the greenhouse, the lower-body line and rear fender bulge, and the character of the C-pillars. Ghia added two front "nostril" grilles for effect. Volkswagen Karmann-Ghia styling was now complete.
Recognizing the pretty little Ghia coupe as a way to expand the VW line without much effort, Nordhoff gave the project thumbs-up and turned the job of production over to Karmann.
Complete Beetle platforms were shipped from Wolfsburg to Osnabruck, where Karmann made the bodies, and painted, trimmed, and completed the cars before feeding them into Volkswagen's normal distribution system.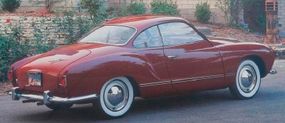 Find out on the next page how the Volkswagen Karmann-Ghia differed from the VW Beetle.
For more on Volkswagens and other great cars, check out:
New Volkswagen Prices and Reviews

Used Volkswagen Prices and Reviews

Volkswagen Bus

Porsche Cars