The Isky T was created by the legendary Ed "Isky" Iskenderian, one of the most famous speed-equipment manu­fac­turers of all time. But before Ed became a noted cam grinder, he was a teen­ager interested in fast cars. Ed built this 1924 Ford Model T roadster as a high school senior in 1940, and drove it to a speed of 120 mph at the El Mirage dry lake in 1942.
Iskenderian's T is one of the oldest surviving unrestored hot rods known to exist and maybe the only untouched and original example of the prewar breed. Fortunately, Ed is a pack rat -- he has literally not thrown anything away since 1943, which is probably why this car remains a gem from hot ­rodding's roots.
Ed used a variety of engine configurations before settling on the setup shown. The car is powered by a venerable flathead Ford V-8 equipped with Maxi overhead-exhaust-valve cylinder heads and a Thickstun three-carb manifold. He made the valve covers and engraved his name into them.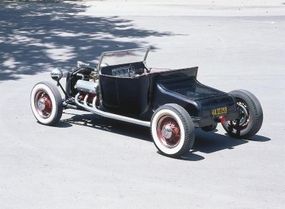 The car's unusual stance can be attributed to the rear end, which is mounted behind the spring instead of directly below or in front of it. This adds six inches of wheelbase. The front axle is from a 1932 Ford hung on a set of stock 1937 Ford ­wishbones.
The unique grille shell is made from the tops of two 1933 Pontiac surrounds welded together with vertical bars added. Ed made the hood ornament in a high school shop class.
The firewall has an engine-turned finish, a common touch on hot rods of this era. A pair of lakes pipes start at the exhaust ports and sweep gracefully past the driver's ­compartment.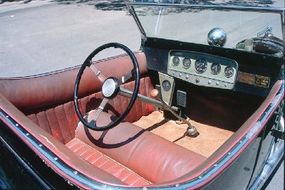 Red Kelsey-Hayes wire wheels and matching naugahyde upholstery were popular in prewar hot rods, as were Auburn dash panels. Ed mounted the tach on the steering-column support to provide a line of sight through the large "banjo" steering wheel.
The interior features a pair of dash plaques (below) that are true gems from hot rodding's past. The one on the left is from the Western Timing Asso­ciation (a short-lived rival to the SCTA) signifying that this car went 120 mph at El Mirage.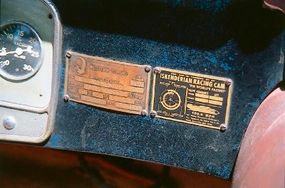 Isky added the other tag later. It is an official Isky timing tag showing the lift and duration of the camshaft. Every cam Isky sells comes with one of these.