1982, 1983, 1984, 1985 Honda Accord
Building on the original Accord's solid success, Honda kept its top-selling car on the path of ever-more sophistication and refinement. The redesigned 1982 models found an even wider audience, and sales continued to climb. But a lingering recession and deep job cuts in the U.S. auto industry fueled a growing antagonism toward Japanese vehicles in some quarters.
Critics charged that Honda and other Japanese brands with "dumping" cars, thus stealing sales from American manufacturers and forcing them to layoff workers. It was in this heated political atmosphere that Honda became the first Japanese automaker to build cars in the U.S. The hot-selling Accord was the logical candidate, and in late 1982 a new "transplant" factory in Marysville, Ohio, began turning out Accord sedans. This was mainly a business decision, and bold one, with no guarantee of a payoff. But succeed it did, and other Japanese brands soon followed Honda's lead. The auto industry hasn't been the same since.
1982 Honda Accord
Though not evident at a glance, the redesigned 1982 Honda Accord was somewhat longer, wider and roomier than previous models. Wheelbase was stretched nearly three inches to 96.5, and overall length increased about two inches. A three-model lineup returned, and the mechanical package was little changed, though rated horsepower rose by three to 75. Styling was familiar too, but a bit smoother and better resolved. Despite all this, the Accord kept its people-pleasing character. Honda was just offering more of a good thing. In the process, the Accord became somewhat quieter and smoother riding. It also felt more substantial despite being little heavier. And fuel economy was still top-of-the-class at an honest 26-30 miles per gallon.
1983 Honda Accord
Honda began selling its historic U.S.-built Accord sedans this model year. Hatchback coupes were still imported from Japan, as were some sedans, as it took time for the new Ohio plant to reach full speed. Some pundits expected build quality would suffer, but Consumer Guide and most others discerned little difference in the American Accords.
Aside from that, there was but one notable change affecting every 1983 Honda Accord: a four-speed automatic transmission to replace the previous three-speed option. The extra gear allowed cruising at lower rpm to the benefit of fuel economy, aided by a lockup torque-converter clutch that reduced the fuel-wasting internal slippage associated with automatic. Other manufacturers offered similar transmissions, Detroit included.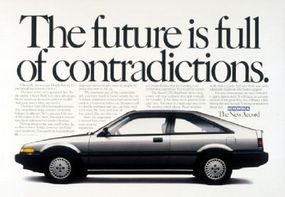 1984 Honda Accord
Appearance updates, a larger engine and a new luxury-trim sedan made up the 1984 Honda Accord story. All models now carried a 1.8-liter four-cylinder with 86 horsepower; a three-barrel carburetor continued. Honda's sporty Prelude coupe was redesigned in 1983 around this same engine, but with dual carburetors and 100 horsepower. An LX-trim sedan was added with most of the same features as the LX hatchback. Both sedans received a fresh "face."
Coupes got a lower hoodline, specific nose styling, revised bumpers, and a hatch lid with integrated spoiler. They also received orange gauge graphics and a firmer suspension with a rear stabilizer bar added. All these changes were intended to give Accord coupes a sportier personality for added market appeal. Speaking of which, Accord sales this year broke into the top-10 ranks for the first time, though it was not be the last.
1985 Honda Accord
Closing out the car's second generation, the 1985 Honda Accord lineup gained a spiffier luxury sedan, the SE-i. Future Accord generations would also end with SE (Special Edition) models, though not even Honda might not have known that in 1985. As on some European cars, the "i" stood for fuel injection, Honda's new port electronic system with a separate squirter for each cylinder. Horsepower checked in at 101, versus an unchanged 86 on other models. The SE-i replaced the four-door LX, but was even ritzier, with leather upholstery, power-operated glass sunroof, and special exterior trim as exclusive and standard. Other 1985 Accords received only detail trim changes.
The second-generation design cemented Accord's reputation as one of the best compact-car buys on the market. As Consumer Guide noted in 1985: "The front-drive Accord has consistently been highly ranked by our auto staff for its overall refinement, perky performance and neat assembly quality. Our most recent test car was an American made LX sedan that was probably the best-built Accord we've seen to date. [And] we averaged 27 mpg with manual transmission. Other cars in this size and price range are equal to or close to Accord in equipment and assembly, but none seem to match the smooth, quiet nature of Honda's 1.8-liter engine. It's still at the head of the class for our money."
Go to the next page to find out what the third design generation of the Honda Accord had to offer.
For advice, reviews, photos, prices, reliability trouble spots, and even examples of used cars you're considering that are on sale in your area, check out:
Get expert analysis of thousands of used cars over the past decade at Consumer Guide's Used Car Reviews.

You've found the vehicle you want to buy, but only a Vehicle History Report can tell you if the odometer is accurate, if it's received any safety recall repairs, and a host of other essential information.

The Honda Accord has been a perennial among Consumer Guide's Best Buy and Recommended vehicles. Find out why, and learn about our other top new-car values.

Shopping for a hybrid car? Click here to see the 2007 Honda Accord hybrid and other 2007 hybrid car pictures.