1998, 1999, 2000, 2001, 2002 Honda Accord
The sixth generation of the Honda Accord launched with the 1998 model and aimed to please more people more of the time. It did. As Consumer Guide observed, the previous Accord "had fallen behind its competition, but the new one catches up decisively, especially in the 'space race.' As one of our testers put it, the '98 represents 'more Accord for the money.' It's a must-see if you're looking for a top-notch family midsize." And so it would remain through a longer-than-usual five-year lifespan, its appeal enhanced by the addition of standard safety features and new convenience items.
1998 Honda Accord
The 1998 Honda Accord was virtually all new. The wagon body style was dropped -- buyers were still turning from midsize wagons to sport-utility vehicles -- while the coupe gained a sporty look all its own, courtesy of Honda's California design studio. Dimensions grew only a little, and now differed between coupes and sedans. Wheelbase, for example, was 106.9 inches for the four-doors versus 105.1 for the two-doors. Sedans measured 118.8 inches long, coupes two inches shorter than that. Both body styles stood a bit taller and gained less than 100 pounds.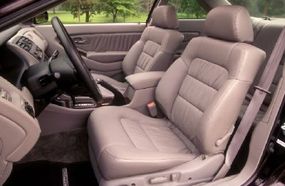 Models offered were LX and EX coupes and sedans with either four-cylinder or V6 power, plus a price-leader four-cylinder DX sedan. Both engines were new. The four was now a 2.3-liter unit, again with Honda's VTEC variable-valve-timing system designed to improve low-end torque without compromising high-end power. It developed 135 horsepower in the DX, 150 in other four-cylinder models. Accord copped its new 3.0-liter V6 from Honda's upscale Acura CL coupe. Also featuring VTEC, this engine delivered 200 horsepower.
As before, all models offered a five-speed manual transmission and an optional four-speed automatic. Antilock brakes were standard on four-cylinder EXs and all V6 models, optional for the four-cylinder LX sedan with automatic transmission. Wheel size was up to 15 inches on all models bar the DX sedan, which came on 14-inch steel rims, and the EX V6 coupe, which boasted 16-inch alloy wheels, the largest standard wheels yet offered on an Accord.
1999 Honda Accord
New-design cars don't usually change much in their second year, and so it was for the 1999 Honda Accord. The list of alterations was short: a standard antitheft system for all models; a power recliner added to the standard power driver's seat in LX V6 models; and standard remote keyless-entry system for all EX Accords.
Following an established pattern, a new TL sedan based on the latest Accord platform bowed this year at Acura division. Though conservatively styled, this 3.2 TL was genuinely sporty to drive with its 3.2-liter V6, quick-shifting automatic transmission, and firm but pliant suspension. It soon became Acura's top-selling model.
2000 Honda Accord
Safety was the focus for the 2000 Honda Accord line. All models gained a dual-stage passenger-side dashboard airbag that would automatically deactivate if sensors determined the passenger was too small or out of position. This idea was to eliminate airbag deployment that could injure such occupants, as shown by various research studies. The feature also reduced repair costs after a frontal collision by keeping the right-side airbag intact.
Perhaps even more significant was the arrival of standard front side airbags for V6 models and leather-equipped four-cylinder EXs. Mounted in the outboard bolsters of the seatbacks, these smaller airbags were designed to protect occupants in a side impact, per recently enacted government standards.
2001 Honda Accord
Further refinements marked the 2001 Honda Accord. A major highlight was the addition of standard traction control for V6 models. Working in conjunction with the antilock brakes, this system was designed to sense front wheelspin and, in the event, to reduce engine power and/or apply the brakes until traction was restored. It was a worthwhile safety plus reflecting Accord's continued adoption of features once reserved for luxury-class cars. Also serving safety, position sensors now covered the side airbag as well as the dashboard airbag for the right-front passenger.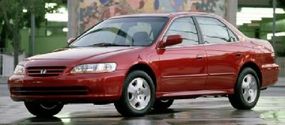 Again, the intent was to forestall possible airbag injury to smaller or out-of-position occupants, as well as costly, unnecessary airbag deployment with seat unoccupied. All 2001 Honda Accords received subtle restyling, and all but the DX sedan got lighted power-window switches. In addition, EX V6s added standard automatic climate control, in-dash CD changer, and four-way power passenger seat; four-cylinder EXs also got the CD changer; and LXs were upgraded to six-speaker audio with a single-disc in-dash player.
A new coupe headlined news at Honda's luxury division. Dubbed the 2001 Acura 3.2 CL, it improved on its predecessor with smoother styling, more V6 power, a mandatory new five-speed automatic transmission, and a genuinely sporty T-Type S version. Consumer Guide thought the 3.2 CL "should satisfy demanding drivers...and makes few concessions to pricier European coupes in performance, comfort, and quality."
2002 Honda Accord
The sixth-generation Honda Accord took a final bow for 2002, signaled by the return of specially equipped SE coupe and sedan models. Even more affordable were new Value Package editions of the baseline DX sedan. EX versions gained steering-wheel audio controls this year.
Honda Accord Reliability
Airbags (2002): The airbag warning light may come on if a cell phone or laptop computer is plugged into the accessory power socket.
Automatic transmission (1999, 2000, 2001, 2002): On V6 models, transmissions may fail due to lack of thread-locking compound on nut for low clutch. Honda extended the warranty on affected vehicles to seven years or 100,000 miles.
Brakes (1998): The exterior brake lights may not go off. The cause is a saturated float in the master cylinder that should be replaced.
"Check Engine" light (1998, 1999, 2000, 2001, 2002): The EVAP solenoid may fail on vehicles driven where salt is used on roads, causing the "check engine" light to come on.
Oil leak (1998, 1999, 2000, 2001, 2002): Some vehicles may have oil leaks from multiple locations, including boltholes on V6 engines.
Paint/body (1998): If the car is driven on rough roads, the spoiler on the trunk can rub through the paint unless spacer pads are installed between the spoiler and trunklid.
Suspension noise (2000, 2001, 2002): Loose nuts on the rear stabilizer bar cause it to rattle.
Transmission problems (2000, 2001, 2002): Automatic-transmission problems prompted Honda to extend warranty coverage to seven years/100,000 miles.
Vehicle noise (1998): Noises may come from the top of the windshield and rear window because the teeth for the glass fasteners aren't engaged properly. The teeth should be trimmed and wool felt installed.
Wheels (1999, 2000): Clicking noises from the wheels can be remedied by applying special grease between the wheels and hubs.
V6 engine (2002): Two problems were handled as a recall. The automatic tensioner for the timing belt malfunctions, resulting in excessive slack; a problem with the water pump casting causes misalignment of the timing belt. Both components were to be replaced at the same time.
Honda Accord Safety Recalls
1998: An irregularity in transmission cover can allow car to roll down an incline while transmission is in "Park."
1998, 1999: Worn ignition switch may cause interlock to fail, allowing key to be removed without shifting into "Park."
1999, 2000, 2001, 2002: Ignition-switch interlock may not function properly, making it possible to turn key to "off" position and remove it, without shifting transmission to "Park."
2000: Airbags may not deploy correctly, due to improper welding.
2000: Rear suspension lower arms and/or control arms could break, due to improper welding.
2000, 2001: Certain rear seatbelt buckles were improperly manufactured and may be difficult to unfasten after a crash.
2000, 2001: Dimmer control for instrument panel lights on some cars could fail due to heat build-up, possibly causing instrument lights to fail.
2001: Broken plastic piece of air-cleaner box cover could travel into the intake chamber. If the piece lodges in the throttle body, the throttle could stick in a partially open position.
2002 V6 engine: Engine will stall if timing belt breaks due to a misaligned tensioner pulley on the water pump.
The final section focuses on the 2003, 2004, 2005, 2006, 2007 generation of the Honda Accord, which brought some of the most sweeping changes in the car's history.
For advice, reviews, photos, prices, reliability trouble spots, and even examples of used cars you're considering that are on sale in your area, check out:
Get expert analysis of thousands of used cars over the past decade at Consumer Guide's Used Car Reviews.

You've found the vehicle you want to buy, but only a Vehicle History Report can tell you if the odometer is accurate, if it's received any safety recall repairs, and a host of other essential information.

The Honda Accord has been a perennial among Consumer Guide's Best Buy and Recommended vehicles. Find out why, and learn about our other top new-car values.

Shopping for a hybrid car? Click here to see the 2007 Honda Accord hybrid and other 2007 hybrid car pictures.