The Honda Accord was introduced way back in 1976 as a 1977 model. It arrived from Japan as a compact two-door hatchback coupe, basically a scaled-up version of the original Honda Civic subcompact. That first Accord immediately impressed critics and buyers alike with its smooth mechanical refinement, pleasant front-wheel-drive road manners, topnotch assembly, and strong features-per-dollar quotient.
The world has changed a lot in three decades, yet those traits are still in evidence, one reason why the Accord remains Honda's top-selling passenger car, not to mention one of the most popular cars on the American market. Since 2000, in fact, only the Toyota Camry, its perennial archrival, has outsold the Accord.
The Honda Accord was redesigned for 1982, by which time a four-door sedan had been added. With sales climbing, Honda decided to build American-market Accords in the U.S., starting in 1984, at a brand-new "transplant" factory in Marysville, Ohio. The reasons were political as well as economic, but the venture proved so successful that other import brands would follow Honda's lead. Accord was again redesigned for 1986, becoming longer, lower, more stylish, and somewhat sportier to drive.
The last was no surprise, given Honda's origins as a motorcycle maker, its long-time emphasis on engineering -- and its occasional involvement in auto racing. Accord became still sportier for 1989, when notchback coupe models were added and top-line LXi versions gained a firmer suspension and steering. Even so, the Honda Accord remained firmly focused on family-friendly transportation. Underlining that point was the new fourth-generation design for 1990, which grew to nearly midsize-car dimensions and offered station wagon models instead of hatchbacks.
Since then, the Honda Accord has been redesigned three more times, each generation adding size, power, refinement and new features to the successful formula. That frequent updating helps explain Accord's continued strong appeal. So does a consistent high level of customer satisfaction, not to mention the consistently strong resale values that have come to be associated with the Honda brand.
This article traces the evolution of the Honda Accord from the original 1977 models to the latest 2007 versions. It's divided by the seven design generations that span these model years.
Each section begins with a description of the major design and engineering features for that generation. It then discusses the significant changes to Accord for each model year within the generation.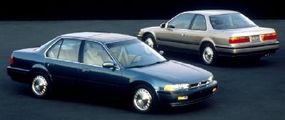 Beginning with the 1990-1993 generation, each section also includes a segment entitled "Honda Accord Reliability." This lists the car's notable trouble spots as reported by owners and mechanics, and includes problems covered in company-issued service bulletins.
In addition, each section starting with the 1990-1993 generation concludes with "Honda Accord Safety Recalls. These are recalls issued by the U.S. government's National Highway Traffic Safety Administration.
The Accord is to Honda what the Camry is Toyota: a popular mainstream car that makes a major contribution to its maker's bottom line -- and public image. Each model has its pluses and minuses, yet are closely matched in design concept, price, market position, and other respects. No wonder they've competed so long to top each year's new-car sales chart. Accord has its faults, of course, as does Camry.
Nevertheless, the Honda Accord remains one of America's top-rated cars, both new and used. Learn all about it in the pages that follow.
For advice, reviews, photos, prices, reliability trouble spots, and even examples of used cars you're considering that are on sale in your area, check out:
Get expert analysis of thousands of used cars over the past decade at Consumer Guide's Used Car Reviews.

You've found the vehicle you want to buy, but only a Vehicle History Report can tell you if the odometer is accurate, if it's received any safety recall repairs, and a host of other essential information.

The Honda Accord has been a perennial among Consumer Guide's Best Buy and Recommended vehicles. Find out why, and learn about our other top new-car values.

Shopping for a hybrid car? Click here to see the 2007 Honda Accord hybrid and other 2007 hybrid car pictures.