2003, 2004, 2005, 2006, 2007 Honda Accord
The Honda Accord moved into its seventh design generation with the most dramatic changes in its history. Honda played up the 2003 models' bold new look with ads asking "Accord, Is That You?" But typical of Honda, there was new substance to match the new style, including several first-time features and, come 2005, the first gasoline/electric powertrain available in a midsize car. After years of conservative evolution to protect Accord's sales position, Honda again dared to innovate, a genuine necessity in the hypercompetitive market of the 21st century.
2003 Honda Accord
The 2003 Honda Accord answered the redesigned 2002 Toyota Camry with another all-new design boasting fresh, sculpted styling and several first-time features. A coupe and sedan returned with distinct visual signatures, but looked more dynamic than previous Accords. Dimensional changes were modest, with sedans adding an inch to wheelbase and both body styles gaining an extra inch in width. Weight gains were also modest, though years of steady growth made Accords into midsize cars weighing nearly 3000 pounds, a far cry from the original late-1970s models.
The 2003 lineup reprised coupes and sedans in LX and EX trim with four-cylinder and V6 engines, plus the price-leader four-cylinder DX sedan. EXs with leather-upholstery were designated EX-L, but were again priced as separate models. Four-cylinder Accords carried a new-design 2.4-liter engine with 160 horsepower -- up by as much as 25 horsepower from the previous 2.3-liter unit. The 3.0 V6 was retuned to make 40 extra horsepower, 240 in all. A five-speed manual transmission remained standard on four-cylinder models. Optional for them and standard on V6s was a new five-speed automatic, replacing a four-speed. Also new for 2003 was a sportier V6 EX coupe with a six-speed manual gearbox -- Accord's first -- plus special trim and 17-inch wheels (versus the usual 16s or 15s).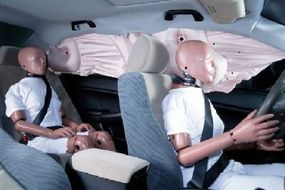 On the safety front for 2003, antilock brakes were finally standard for all Accords, not just high-line models. Standard four-wheel disc brakes remained exclusive to V6s and four-cylinder EXs. Standard traction control remained exclusive to V6 models. Front side airbags were again standard for V6s and four-cylinder EXs, optional for LX models. But in an important development, curtain side airbags arrived as an exclusive standard feature for EX V6s. Designed to protect the heads of outboard occupants in a side impact, the curtain airbags deployed from above the side windows when activated by sensors.
Another first for Accord was a navigation system with voice control for navigation, audio, and climate functions, an option limited to EX models. Every 2003 Hondaa Accord got a tilt/telescope steering column, and all but the base DX included remote keyless entry that could lower or raise the side windows from the keyfob. Joining leather upholstery as standard on EX V6 models were dual-zone automatic climate control and heated seats, which were also available in leather-upholstered four-cylinder versions.
Consumer Guide summed up the 2003 Honda Accord this way: "A perennial Best Buy moves up a notch in features, refinement, and dynamic ability to become more a match for [Volkswagen's] polished, pricier Passat than for the capable but conservative Toyota Camry. With reliability and resale values likely to remain strong, the newest Accord looks like another Honda hit."
2004 Honda Accord
As expected, the Honda Accord followed up its latest redesign with few changes. Traction control was newly standard for all V6 models, not just EXs, and the head-protecting curtain side airbags were now available for four-cylinder EXs as well as V6 versions. Satellite radio was a new standard item for EX V6 and EX-L models.
A 2004 Acura TL sports sedan based on the seventh-generation Accord arrived at Honda's upscale Acura division. Automakers had become very adept at disguising shared platforms, and this Acura was a good example. Like the latest Accord, the newest TL highlighted unique styling, little-changed dimensions, more power, and several first-time features.
2005 Honda Accord
The 1999 Honda Insight two-seat coupe was the first gasoline/electric hybrid car on the American market. After following up with a hybrid version of its small Civic sedan for 2003, Honda introduced the 2005 Honda Accord Hybrid sedan, the first such car in the midsize class.
Hybrids are usually touted for their low emissions and high fuel thrift, but the Accord Hybrid was marketed more on performance. It certainly had the horsepower with a net total of 255, thanks to use of a V6 engine instead of a four-cylinder. This was a 3.0-liter engine with Honda's Integrated Motor Assist electronic control system and a conventional five-speed automatic transmission instead of the usual CVT (continuously variable automatic transmission). IMA referred to a battery-powered electric motor that would "boost" engine power for full-throttle acceleration. As a fuel-saving measure, the engine employed Honda's new Variable Cylinder Management System, designed to deactivate three cylinders when cruising or decelerating.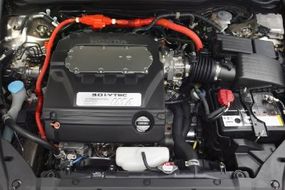 Like the Civic Hybrid, the Accord could not be driven on electricity alone, but needed no plug-in charging. Priced at the top of the Accord line, the Hybrid was equipped much like EX V6 models, with standard leather upholstery, satellite ratio, dual-zone automatic climate control, and heated front seats. It also sported a unique grille, decklid spoiler, special instrumentation, and gas-saving electric power steering instead of a hydraulic system.
Another exclusive was Honda's new electronic active-noise-control system, claimed to reduce mechanical, road and wind ruckus. In all, the Accord Hybrid was a technical tour de force, so imagine Honda's dismay when sales came in well below projections. One likely factor was a $30,000 starting price, the steepest yet for an Accord, and likely too steep for most midsize-car buyers.
In the only other news for the 2005 Honda Accord line, curtain side airbags were now standard for all models, along with front torso airbags.
2006 Honda Accord
Accord returned for 2006 with minor revisions to exterior styling and interior trim. As usual for Honda, the changes were hard to spot without having the new and old versions side-by-side. More significant, perhaps, the lineup expanded to include VP ("Value Price") sedans and an LX SE coupe and sedan, all with four-cylinder engines and equipped for plugging whatever price gaps marketers thought existed.
2007 Honda Accord
The Honda Accord concluded a second five-year design cycle with the 2007 season. LX SE models were reduced to one SE sedan priced slightly higher than the base-level VP version. A concept coupe displayed at Detroit's 2007 North American International Auto Show suggested that Accord's scheduled redesign for 2008 would feature more-aggressive styling and slightly increased dimensions.
Honda Accord Reliability
: The airbag warning light may come on due to a defective occupant position-detection sensor requiring replacement. The light may also come on if a laptop computer is used near the front passenger seat, which should be avoided.
: This may come on if the battery gets weak (low state of charge), which would require software updates to the powertrain control module (engine computer).
: The ABS warning light may come on if water seeps into the rear-wheel-speed sensor(s), which should be replaced with improved ones.
: The car may drift from side to side due to uneven camber settings; this can only be corrected by relocating the engine cradle as far right as possible.
: This may not close completely due to a defective limit switch that must be replaced.
V6 engine (2002): Two problems were handled as a recall. The automatic tensioner for the timing belt malfunctions, resulting in excessive slack; a problem with the water pump casting causes misalignment of the timing belt. Both components were to be replaced at the same time.
: Tubing in the windshield-washer reservoir deteriorates, and then gets transferred to the windshield and wipers; the tubing and wipers would have to be replaced.
Honda Accord Safety Recalls
2003, 2004: Heat buildup in automatic transmission may eventually lead to gear tooth chipping or gear breakage, resulting in transmission lockup.
2004, 2005: During deployment, the fabric of the driver's front airbag may tear after contact with inside surface of airbag cover, thus increasing the risk of injury. Dealers would install a protective flap between the airbag-module cover and the inner module.
2004, 2005: Some vehicles may have improperly installed wiring for the driver's seat position sensor; in a collision, this could cause the airbag to "default" to full inflation pressure, thus increasing the risk of injury for smaller drivers. Dealers would replace the sensor wiring sub-harness.
2005: A loose terminal in the main fuse box may cause the fuel pump to lose power, possibly causing the engine to stall without warning; if the pump becomes inoperative, engine may not start.
2006 Hybrid: Some vehicles may have improperly torqued bolts on the front impact sensors for the dashboard airbag system; the sensors are located near the headlights. If the bolts loosen or fall out, the sensors may not detect a crash and activate the airbags, thus increasing the risk of injury. Dealers will inspect the bolts and re-torque if needed.
2006 Hybrid: Some vehicles may have tires that were damaged when mounted on the wheels. If the bead sealing area is affected, the tire could lose air while driving, thus increasing the risk of a crash. Dealers will remove and inspect all wheels for damage in the bead area.
For advice, reviews, photos, prices, reliability trouble spots, and even examples of used cars you're considering that are on sale in your area, check out:
Get expert analysis of thousands of used cars over the past decade at Consumer Guide's Used Car Reviews.

You've found the vehicle you want to buy, but only a Vehicle History Report can tell you if the odometer is accurate, if it's received any safety recall repairs, and a host of other essential information.

The Honda Accord has been a perennial among Consumer Guide's Best Buy and Recommended vehicles. Find out why, and learn about our other top new-car values.

Shopping for a hybrid car? Click here to see the 2007 Honda Accord hybrid and other 2007 hybrid car pictures.