1977, 1978, 1979, 1980, 1981 Honda Accord
The Honda Accord came to America in spring 1976. It was Honda's largest, most ambitious car to date, yet embodied the weight-conscious engineering principles born of Honda's motorcycle experience.
A front-wheel-drive layout and hatchback configuration expanded on Civic concepts. As a result, the Accord offered both good acceleration and above-average fuel economy in a trim yet surprisingly roomy compact package. It also showed uncommon attention to detail, something Americans were coming to expect of all Japanese cars. Just as important, it reaffirmed Honda's commitment to cleaner air with a new CVCC engine.
With all this, the Accord was an instant sales hit. Demand fast-outstripped supply, but customers willingly endured months-long waits for delivery. Freshened styling and the addition of a four-door sedan body style kept sales humming along into the 1980s. In fact, the Accord proved so popular that Honda decided to build it in the U.S. This step wasn't taken done to alleviate a short-term supply problem. It was a political and economic move, and it demonstrated that American workers could make high-quality cars just like their Japanese counterparts.
1977 Honda Accord
The Honda Accord made its debut as a two-door hatchback coupe with front-wheel drive and a 1.6-liter four-cylinder engine with three-barrel carburetor, single overhead camshaft, and Honda's patented CVCC "lean burn" combustion system. Horsepower was a modest 68, but that was sufficient for the 2018-pound base weight. A five-speed manual transmission was standard. A two-speed Hondamatic transmission was optional but seldom ordered, as it lacked the smoothness and flexibility of American automatics.
Dimensionally, the Accord was a notch larger than the hatchback Civic, close in size to the contemporary Volkswagen Scirocco sports coupe. Wheelbase was 86.6 inches; length-width-height measured 162.8 x 63.8 x 52.4 inches. Other design highlights included four-wheel independent suspension, standard power brakes with front discs, and precise rack-and-pinion steering.
Equally unusual for an economy compact were the Accord's many no-cost features. These included AM/FM radio, trip odometer, tachometer, rear window wiper/washer, defroster vents for the front-door glass, intermittent wipers, day/night interior mirror, and a folding rear seatback. Also included were a handy dashboard coin box, a graphic display showing when doors and hatchback were ajar, and maintenance reminder lights for tire rotation and oil/oil-filter changes.
The price for all this was around $4,000, which put Accord at the top of the compact class, but that figure was not unreasonable considering the many standard goodies and high-level workmanship. The Accord was not without problems, including premature rust in snowbelt areas, overheating, and various troubles with the exhaust system, carburetor and brakes. Still, it was more reliable and durable than good many U.S. cars of the day.
1978 Honda Accord
A second model was the highlight of Accord's second model year. Called LX, for "luxury," it added to base-model equipment with standard air conditioning, variable-assist power steering, steel-belt radial tires, a digital clock, AM/FM stereo radio, and deluxe interior trim. The price for all this was about $600, rather a lot in those days. Honda continued its practice of offering no factory options, though dealers stocked various accessories priced to return a handsome profit.
1979 Honda Accord
A four-door sedan joined the 1979 Honda Accord lineup, and all three models adopted a 1.8-liter engine with 72 horsepower, a gain of four from the previous 1.6. The sedan was a little heavier and nearly inches longer than Accord hatchbacks, but shared most other dimensions and features.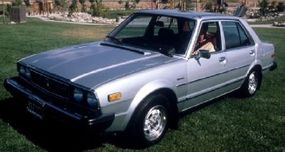 1980 Honda Accord
Though period inflation was still causing widespread "sticker shock," Honda Accord sales kept trending up this model year. There was only one major change, but it was important: a modern three-speed automatic transmission to replace the unpopular Hondamatic. It was optional for all models at $250, but emissions requirements dictated that engine power be dialed back to 68.
1981 Honda Accord
The Honda Accord was unchanged except for revised colors and interior fabrics, plus standard variable-assist power steering for the sedan. This would be the last year for the first-generation design -- and Accord's last five-year design cycle before 1998.
The Accord was a winner from the start, fast becoming a regular on Consumer Guide's new-car Best Buy list. There were good reasons for that. As the magazine noted in 1981, this Honda "is aptly named. It's a harmonious blend of small-car economy, a surprisingly smooth ride, low noise levels, careful workmanship inside and out, and pleasing performance. It's also most enjoyable to drive. About the only two areas of discord are the trunk and back seat, both of which are bit small for most Americans...What you're actually getting in the Accord is a kind of midget limousine. It also offers some of the most intelligent engineering in the industry...[T]he Accord is not a bargain, but it does offer solid and reliable value for the money."
As you'll see on the following page, the Accord became increasingly refined -- and popular -- with the 1982, 1983, 1984, and 1985 generation.
For advice, reviews, photos, prices, reliability trouble spots, and even examples of used cars you're considering that are on sale in your area, check out:
Get expert analysis of thousands of used cars over the past decade at Consumer Guide's Used Car Reviews.

You've found the vehicle you want to buy, but only a Vehicle History Report can tell you if the odometer is accurate, if it's received any safety recall repairs, and a host of other essential information.

The Honda Accord has been a perennial among Consumer Guide's Best Buy and Recommended vehicles. Find out why, and learn about our other top new-car values.

Shopping for a hybrid car? Click here to see the 2007 Honda Accord hybrid and other 2007 hybrid car pictures.