1994, 1995, 1996, 1997 Honda Accord
The 1994 Honda Accord initiated another four-year design cycle to kick off the car fifth generation. Accord was still a bit small for a midsize car, but fresh styling and the advent of V6 power helped maintain its popularity -- and perennial Best Buy status at Consumer Guide. Previous Accords had rather sporty road manners for a mainstream car.
The '94s were no different, but they also felt more substantial and poised than any previous Accord -- almost like certain European import cars costing far more. Speaking of which, Accord maintained or increased sales in this period despite higher prices, especially for V6 models. Evidently, buyers still recognized this Honda as a "class act" among midsize cars.
1994 Honda Accord
Accord was redesigned for 1994, highlighted by more power and a larger interior with standard dual airbags. Unlike most makeovers, this one did not produce an appreciably larger Honda. Wheelbase was about the same as before, overall length was 1.2 inches trimmer, and weight showed little change. The main dimensional gain was in overall width, which swelled a full three inches to increase total interior volume in fact as well as in feel.
Honda again offered Accord coupes and sedans in DX, LX, and EX trim, plus LX and EX four-door wagons. Dual dashboard airbags were now standard for all Accords, not just the EX sedan, thus eliminating the front motorized "mousebelts" so many people disliked. Another safety plus was first-time availability of antilock brakes for DX and LX. ABS was standard for EX models, which also featured such niceties as power driver's-seat height adjustment, remote keyless entry, and 15-inch alloy wheels versus other model's 14-inch steel rims.
Powerteams were among the few things not changed for 1994. A 2.2-liter four-cylinder engine continued with 130 horsepower for DX and LX, 145 for EX. Both versions again teamed with five-speed manual transmission or optional four-speed automatic.
Consumer Guide was impressed by the '94 Accord "as a solid-feeling family car with a refined sporty manner. But we believe it needs a V6 engine to compete head-on with its top rivals, the Toyota Camry and Ford Taurus." As events soon proved, Honda thought so too.
1995 Honda Accord
Accord finally pulled abreast of the competition by offering its first V6 engine: a 2.7-liter unit with twin overhead camshafts, four valves per cylinder, and 170 horsepower. This was basically an updated version of the 1986-90 Acura Legend powerplant. The Accord V6 was limited to LX and EX sedans. It was physically larger than the four-cylinder, so V6 models had a slightly longer nose and a different grille as subtle identifiers.
Both were equipped like their four-cylinder counterparts except for larger tires; the EX V6 also included leather upholstery and eight-way power driver's seat. Prices set a new high for Accord at over $22,000. But other mainstream midsize cars were pushing luxury, and Honda couldn't afford to be left out. Other Accords were little changed for 1995 except that the EX wagon now came only with automatic transmission.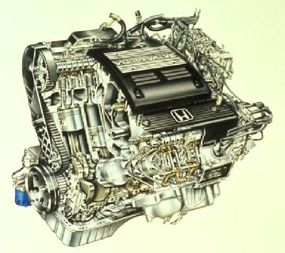 Consumer Guide found Accord's V6 didn't make "a huge difference in acceleration" versus the four-cylinder engine, but did judge it quieter, smoother, and almost as thrifty with fuel. Either way, said the editors, "The Accord is an excellent choice among midsize cars."
1996 Honda Accord
Refinement was the keynote for the 1996 Honda Accord lineup. All models received an appearance update via larger bumpers, new parking lamps, and restyled taillights. Four-cylinder models also sported new chrome grilles like those of top-line V6 models. Coupes and sedans emphasized convenience with a larger trunk opening and a rear-seat pass-through feature, the latter handy for carrying long items like skis. A six-way power driver's seat became standard for the LX V6 sedan and all EX models with optional leather upholstery. Changes this year were otherwise minimal.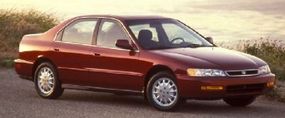 Meantime, Honda's Acura division introduced two midrange sedans to replace the Vigor. Based on the latest Accord design, the 1996 Acura TL offered a 176-horsepower 2.5-liter five-cylinder engine or a 3.2-liter V6 with 200 horsepower. These cars sold somewhat better than the Vigor, but the midsize Acura remained far less popular than the rival Lexus ES 300. Also new this year was the Acura 2.2 CL, basically a restyled Accord coupe with upscale styling, features and pricing.
1997 Honda Accord
The 1996 Honda Accord continued for 1997 with only one notable change, the return of SE models, a sign that another redesign was in the offing. Unlike past years, however, the 1997 Accord SE coupe and sedan were not top-liners but "value" models, offering some EX features for a few dollars more than the four-cylinder LX versions. Among the included features were the 130-horsepower four-cylinder, automatic transmission, alloy wheels, and upscale amenities like power glass sunroof, remote keyless entry, and AM/FM/CD audio.
Honda Accord Reliability
: The CD changer in the trunk, a dealer installed option, may not eject; CD magazines will be exchanged for redesigned units.
: Cars with high mileage may begin to shift more harshly. This may be corrected by adding a bottle of Lubeguard conditioner to the automatic transmission fluid.
: The parking brake may not fully release because a rivet on the brake rod is too tight.
: The heater control-panel lights may not glow when the switch is pressed because of breaks in the circuit-board solder joints.
: The gasket for the mid-exhaust pipe can stick, causing a buzzing noise.
: This may not read full even though the tank is filled, due to excessive resistance in the sending unit in the tank.
: If the transmission grinds when shifting into fifth gear, the fork, sleeve set, and mainshaft gear must be replaced.
: Sudden oil loss and subsequent severe engine damage could be the result of an oil plug popping out from the engine's front balance shaft.
: The air conditioning system's high-pressure line may vibrate against the power-steering-fluid line, causing a knocking sound or other noise in the right front footwell area.
Honda Accord Safety Recalls
1994: Some tire valve stems were damaged during assembly, resulting in sudden loss of air pressure and/or loss of control. Dealers would replace the stems.
1995: Some electronic control units could cause unexpected deployment of the airbags. Dealers would inspect the control units and replace where necessary.
1995, 1996, 1997 except DX and V6 models: The wire harness for the factory-installed air conditioner may be improperly routed, allow wires to rub against each other; this poses the risk of a short circuit that could lead to overheating, smoke, and a possible fire.
1997: Certain ball joints can wear out prematurely and, in the worst case, would separate, causing front suspension to collapse.
The Accord was better than ever in 1998, 1999, 2000, 2001, and 2002. Learn about this generation of the Accord on the following page.
For advice, reviews, photos, prices, reliability trouble spots, and even examples of used cars you're considering that are on sale in your area, check out:
Get expert analysis of thousands of used cars over the past decade at Consumer Guide's Used Car Reviews.

You've found the vehicle you want to buy, but only a Vehicle History Report can tell you if the odometer is accurate, if it's received any safety recall repairs, and a host of other essential information.

The Honda Accord has been a perennial among Consumer Guide's Best Buy and Recommended vehicles. Find out why, and learn about our other top new-car values.

Shopping for a hybrid car? Click here to see the 2007 Honda Accord hybrid and other 2007 hybrid car pictures.