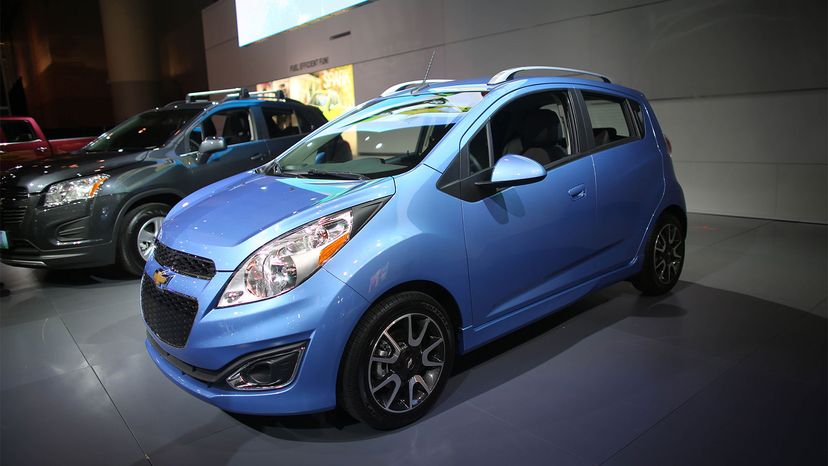 The Chevy Spark is inexpensive and a good choice if you don't need a lot of legroom.
Rene Johnston/Toronto Star/Getty Images
Let's be honest, cars are expensive. Not only do they cost a lot of money to buy, but cars are also expensive in terms of maintenance, repairs, insurance and fuel. Add it all up, and the vehicle you drive can prove to be a huge financial sinkhole. The good news is that some cars are cheaper to own and operate than others. While some vehicles can cost a lot to operate, others are much more affordable. Here is a list of 12 of the cheapest cars to own and operate, ranked in different categories from subcompact cars through to sport utility vehicles and hybrid cars.
12. Chevrolet Spark
If you don't mind driving a subcompact car, i.e., a very small vehicle, than the Chevrolet Spark is the best one to choose in terms of affordability. This diminutive car costs about $12,000 to buy, but has excellent fuel economy and has proven to be quite durable and dependable. Also, the maintenance costs on this car are kept low by the fact that the parts for it are cheap and easily replaceable. Note though that this is a subcompact car, so don't expect a lot of room inside. There is not a lot of leg room with this vehicle. Still, comfort is a small price to pay for the money you'll save driving this car around town.
11. Toyota Corolla
The Corolla has become synonymous with the Toyota brand, and for good reason. This car has proven to be exceptionally tough and one of the most reliable cars on the market. Many Corollas are still on the road with more than 200,000 miles on them. This subcompact car is known for having few breakdowns and requiring little maintenance. It has also won awards over the years for its safety features and fuel economy. Not surprising then that the Toyota Corolla has become a popular family car for people across North America, and the choice of people who like to buy a new car and hold onto it for many years. If you want a car that you can drive for 10 years or longer, the Toyota Corolla is the one for you. A new one will cost about $17,000 to start.
10. Hyundai Veloster Turbo
For people who like a sportier vehicle, the Hyundai Veloster Turbo has been rated the most cost effective of the sporty compact cars. It is a little more expensive to get into at starting price of about $21,000, but the Veloster Turbo has very low maintenance and repair costs and exceptional fuel economy at 36 miles per gallon of highway driving. Available in a hatchback model, this car has style, pep and is fun and affordable to drive. As a sports model that is popular with younger drivers, the Hyundai Veloster Turbo may cost a bit more to insure though. But people who own this vehicle say it is a lot of fun to drive and praise its handling and appearance. Definitely worth a look.
9. Honda Accord
As with the Toyota Corolla, the Accord is the signature car of the Honda company. This is due to the car's longevity—Honda has been making the Accord since 1976—and also its sturdy and dependable reputation. Americans have made the Honda Accord a bestselling car in the United States every year since 1989. The reason is that, like the Corolla, people can buy a Honda Accord and continue driving it for 10+ years. Cheap to operate and with low repair costs, the Honda Accord has proven to be a fantastic midsized family vehicle. The 2016 Honda Accord has a starting price of close to $22,000, but it comes with lots of great standard features, including heated front seats, keyless entry and 17 inch aluminum alloy wheels. The interior is also roomy and good for parents and kids.
8. Chevrolet Impala
For people who want a larger sized car, the full-sized Chevrolet Impala is proving to be very rugged and offers lower fuel costs than many comparable cars in its class. In general, the Chevrolet line of vehicles have come a long way in recent years in terms of their durability. The days of the Chevy clunker that is constantly breaking down and costing owners big bucks in repairs seem to be gone. At a starting price of $25,000, the Chevrolet Impala is one of the more affordable full-sized cars to get into, and it has been winning praise for its overall low cost to operate. Insurance, gas and maintenance costs for this car are all relatively low and make it an attractive option for people who want plenty of leg room and trunk space in an affordable full-sized car.
7. Buick Verano
The Buick company has been working hard to change its image in recent years. Long known as an "old man's car," the Buick line of vehicles today is aiming to be more upscale and compete in the luxury car space. Buick's entry level luxury car is the Verano, a small luxury sedan that boasts features such as a leather interior, a remote climate controller, an exceptionally quiet interior thanks to thick glass windows, hands-free calling and a rear view camera to help with backing up and parking. However, the Buick Verano is also one of the cheapest luxury cars to own and operate thanks to a 180 horse power, 2.4 litre engine that produces excellent fuel economy when driving in the city and on highways. Safety features that include 10 airbags and anti-lock brakes also make this a smart purchase. Starting price is under $25,000, which is low for a luxury class car.
6. Audi A5
For a full luxury vehicle, the Audi A5 gets top marks in terms of affordability. But make no mistake, this is a luxury car and it is priced as one, with a starting sticker price of just under $40,000. The good news is that drivers will not encounter a lot of needed repairs or maintenance with the A5. It is known to be sturdy as a rock, and it comes with luxury features that people expect such as all-wheel drive, a turbocharged and direct-injected 2.0-liter turbo engine that produces with 220 horsepower, and gets 22 miles per gallon in the city and 32 miles per gallon on the highway in terms of fuel economy. Leather upholstery, a panoramic sunroof, automatic climate control, a ten-speaker sound system, heated headlamp washers, LED turn signals, fog lights, Bluetooth connectivity, and a garage door opener all come standard as well. Again, this car is for the owner who doesn't mind spending a bit more upfront to get a luxury vehicle they can rely on.
5. Lexus LS
For people who are in the market for a high-end luxury vehicle, the most cost effective option (relatively speaking, of course) is the Lexus LS. A starting price of $72,000 is going to put this car out of reach for most people. But as far as high end luxury cars go, the Lexus LS gets top marks for having among the lowest insurance costs, breakdowns, repair bills and fuel economy. This car also looks terrific, is a full sized sedan with plenty of room, and has neat features such as four zone climate control, stadium quality surround sound and a built-in entertainment system that is second to none in the car industry. Also available in a hybrid model, the Lexus LS is the affordable super expensive car.
4. Ford Mustang
If a sports car is more your style, there's no beating the Ford Mustang. Not only is the Mustang a classic muscle car, it is also one of the cheapest sports cars to buy, own and operate. The cost of the 2016 Ford Mustang convertible starts at around $20,000, giving it one of the lowest price points in the sports car category. The Mustang is basically a cheap sports car that does not look cheap at all. These cars are also known for being extremely tough in all weather conditions and for rarely breaking down and costing their owners money in terms of major repairs. With plenty of nostalgia and visual appeal, the Ford Mustang is the choice for anyone who wants to impress their friends and family while also saving a few bucks over the life of the vehicle. Fun to drive and economical to operate, it's hard to beat the Ford Mustang.
3. Chevrolet Camaro
If you want a high-performance sports car that has a racing edge to it, there is no better or more affordable option than the Chevrolet Camaro. Another classic sports car, the Camaro has a storied reputation, like the Mustang, and is also one of the more affordable sports cars to own. The starting price of $33,000 for a 2016 model is considerably more than the Mustang, but the Camaro is just as durable and trustworthy as the Mustang, and it has a more powerful engine with either a V6 or V8 under the hood. Great fuel economy, craftsmanship and parts have landed this car on numerous "best buy" lists for 2015. Not bad for a car that can go from 0-60 miles per hour in four seconds flat. Speed, style and affordability all in one. How can you go wrong?
2. Ford Explorer
In the sport utility vehicle (SUV) category, the Ford Explorer continues to be the most cost efficient choice. With a starting cost for a new model hovering around $30,000, it remains one of the lowest cost SUVs on the market. It also gets a best in class 20 miles per gallon driving in the city, and 29 miles per gallon on the highway and is known for having very low maintenance costs. Rugged and tough, this is also an SUV that owners can take off road in almost any environment. And, it comes with a great warranty and many luxury interior features such as leather seats. A vehicle with a long history and strong reputation, the 2016 Ford Explorer is the SUV for people who keep an eye on their wallet.
1. Toyota Prius
Finally, if you're in the market for an ecologically responsible hybrid vehicle that runs on a combination of electricity and gasoline, the Toyota Prius is the most economical choice. With a starting price of under $20,000, the Prius is one of the most affordable hybrid cars to get into. As one of the earliest hybrid cars sold, Toyota has had a lot of time to improve upon the Prius, and it shows in the 2016 model. The car has been winning praise and awards for its fuel economy, as it gets 52 miles per gallon in city and 58 miles per gallon on the highways. The much improved suspension and tires on this car have also led to cost efficiencies that have drivers saving big bucks. And the Prius continues to retain its signature, aerodynamic shape that many people have grown to respect and appreciate. For people in the market for a hybrid car, the Toyota Prius continues to be the choice for style and affordability.