The Ford Explorer was introduced for 1991 and promptly became America's top-selling sport-utility vehicle, despite many new-model "teething troubles." There were several reasons for the vehicle's popularity. For starters, the Explorer was a brand-new design, whereas its main rivals, the Chevrolet S10 Blazer and GMC S15 Jimmy, were at that time nearly a decade old. And although all three brands offered first-time four-door versions that year, the Explorer was the most refined and carlike.
This was in line with Ford's plan of targeting different audiences with two body styles. The new four-door Explorer aimed to be family friendly and on-road comfortable -- a modern take on the traditional car-based station wagon. The shorter two-door Explorer, which replaced the Bronco II in Ford's truck lineup, courted a younger crowd more interested in sport than utility.
A third factor was its just-right size. Many SUVs in those days were body-on-frame models derived from pickup trucks. But the Explorer showed less kinship with Ford's compact Ranger pickup than the Chevy/GMC models did to their pickup parents. Indeed, the four-door Explorer was something new: a midsize SUV, not a compact.
A final reason for the Explorer's ready success was relatively weak foreign competition. The only other contenders of similar size and concept in 1991 -- the Isuzu Rodeo and Trooper, Jeep Cherokee, Nissan Pathfinder, Mitsubishi Montero and Toyota 4Runner -- had much "truckier" ride and handling. They were also somewhat less spacious than the Explorer four-door.
All of this helped make the Ford Explorer not only the sales champ of its class but also one of America's most popular vehicles. Though not always the best SUV for design, performance or other qualities, Explorer regularly finished among the top-10 sellers through 2000 -- and was often in the top five. Needless to say, the Explorer became as vital to Ford Motor Company's bottom line as the full-size F-Series pickup truck line (America's top-selling vehicle of any kind since 1980).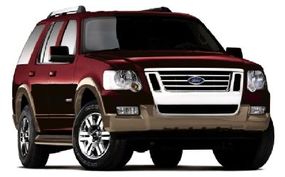 But nothing lasts forever, and the Explorer has lately lost much of its sales luster in a market where truck-type SUVs are increasingly seen as anti-social against the backdrop of global warming, record gas prices, concerns about future energy supplies, and other troubling global realities. The sharp drop in Explorer sales is one reason Ford Motor Company continues to post huge losses in the North American market -- a record $12.8 billion in calendar 2006 alone -- and is now fighting for its very survival.
This article traces the evolution of the Ford Explorer from its beginnings to the latest 2007 models. It's divided by the vehicle's three design generations to date, starting with 1991.
Each section begins with a description of the major design and engineering features for that generation. It then discusses the significant changes to Explorer for each model year within the generation.
Each section also includes a segment entitled "Ford Explorer Reliability." This lists the vehicle's notable trouble spots as reported by owners and mechanics, and includes problems covered in company-issued service bulletins.
Each section concludes with a segment entitled "Ford Explorer Safety Recalls." This provides a list of recalls issued by the U.S. government's National Highway Traffic Safety Administration.
There's a lot to know about the Ford Explorer. You'll find it all in the pages that follow.
For advice, reviews, photos, prices, reliability trouble spots, and even examples of used cars you're considering that are on sale in your area, check out:
Get expert analysis of thousands of used cars over the past decade at Consumer Guide's Used Car Reviews.

You've found the vehicle you want to buy, but only a Vehicle History Report can tell you if the odometer is accurate, if it's received any safety recall repairs, and a host of other essential information.

The Ford Explorer has been a perennial among Consumer Guide's Best Buy and Recommended vehicles. Find out why, and learn about our other top new-car values.