2002, 2003, 2004, 2005, 2006, 2007 Ford Explorer
A great deal was riding on the redesigned 2002 Ford Explorer four-doors that was introduced in January 2001. With the Firestone tire debacle still in the headlines, Ford knew its newest SUVs had to be glitch-free and built right from day one. Demanding consumers expected no less, class competition was rougher than ever. More bad publicity was the last thing Ford needed at a time when its overall sales, earnings and market share were sliding.
Sure enough, a few last-minute bugs cropped up at the factory, so Ford took the unusual step of delaying initial deliveries until all vehicles built to that point could be checked and corrected. Better safe than sorry.
Of course, the redesign had to score with buyers, and it did -- to Ford's great relief. All-new from the ground up, the 2002 four-doors lifted the Explorer to a new level of sophistication in appearance, ride, handling, and features. As a result, this Ford remained America's top-selling SUV. Though it didn't lead the class by as much as it once did, it was still vital to Ford Motor Company's fortunes. Considering that Ford would soon be fighting to survive, it's a good thing the new Explorer turned out so "right."
2002 Ford Explorer
All eyes were on the redesigned 2002 Ford Explorer four-doors, and there was much new to take in. Hallmark styling cues were reinterpreted to create a fresh, tailored look, and a clean-sheet chassis design featured independent rear suspension, a class exclusive shared only with sibling Mercury Mountaineer. Besides promising a smoother ride than the previous solid rear axle, the independent suspension made room for an optional two-person third-row seat, an increasingly popular SUV feature that expanded passenger capacity from five to seven.
The wheelbase and width expanded by about two inches apiece to 113.8 and 72.1 inches, respectively, while overall length lost an inch to measure 188.5. Height, however, rose a sizeable four inches to 72.1, and road-ready weight plumped by a porky 400 pounds to exceed 4,400. But some of those pounds came from a stronger body structure engineered for better side-impact protection.
Complementing these changes were newly optional curtain airbags, which deployed from above the side windows to help protect occupant heads in a side impact. However, they covered only the first and second seat rows, not passengers riding in the new third-row seat.
Added later in the model year were sensors designed to trigger the airbags if an impending rollover was detected. Marketed as Roll Stability Control, this was Ford's direct response to the deadly rollover accidents attributed to earlier Explorers and/or their Firestone tires. A new antiskid system was also made available at about the same time. Called Advance Trac, it mirrored similar systems on other SUVs in being designed to keep the vehicle on its intended path by adjusting engine power and braking individual wheels as needed. The adjustments were made by a computer taking in data from various sensors, including the wheel-speed sensors of the still-standard antilock four-wheel disc brakes.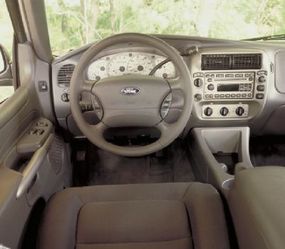 Under the hood, the overhead-cam 4.0-liter V6 was now the Explorer's base engine; the ohv unit was dropped. It still claimed 210 horsepower but now made 250 pound-feet of torque. The optional overhead-valve V8 was also dropped, replaced by Ford's newer overhead-cam 4.6-liter (281-cubic-inch) engine, tuned for 240 horses and 280 pound-feet.
The V8 teamed only with five-speed automatic transmission, which was optional for V6 models in lieu of standard five-speed manual. Available all-wheel drive was absent this season, but Ford's Control Trac four-wheel drive remained an alternative to rear drive. Among other new features were power-adjustable pedals and a tilt/telescope steering wheel as standard for and exclusive to the top-trim Eddie Bauer and Limited models. Buyers could also choose from midrange XLT and entry-level XLS versions.
Meanwhile, the Explorer's two-door Sport wagon and Sport Trac crew-cab pickup were unchanged for 2002. Both retained the basic 1995-2001 Explorer design and would see little change over the next few years.
The new four-door Explorers earned Consumer Guide's "Recommended" ribbon but not a Best Buy medal. This reflected less on Ford's update than on much rougher class competition and the advent of more car-like alternatives. Still, the Explorer was a must-see among midsize truck-style SUVs. Consumer Guide judged it "a more-than-competent overall performer with an unmatched array of useful features: available V8 power, seven-passenger seating, adjustable pedals, curtain airbags...rear-obstacle detection and antiskid system." In all, this was the best Explorer yet, and it was about to get even better.
2003 Ford Explorer
Manual transmission disappeared from the four-door Ford Explorer powertrain chart, but optional all-wheel drive returned for 2003 and a new DVD entertainment system was available. Also new were V6 and V8 NBX models that tilted to outdoor enthusiasts with a standard roof-mounted cargo basket, unique paint and trim, and a soft-lined cargo bay with storage bag. The revived AWD, still without low-range gearing, was available for the V8 Eddie Bauer and Limited models as an alternative to two-speed Control Trac four-wheel drive.
Following a popular trend, the new entertainment system allowed rear-seat passengers to watch DVD movies on a flip-down ceiling-mounted screen; it also allowed for listening to a different audio source than selected by the driver. In other news, the crew-cab Sport Trac adopted standard rear-disc brakes, like other Explorers, and exchanged optional front-side airbags for available curtain-side airbags as a running change. Heated front seats were a new extra for both the Sport Trac and the two-door Sport wagon.
Of note in this year was introduction of the Lincoln Aviator, a luxury-equipped four-door Explorer with slightly different styling and a higher price than the Mercury Mountaineer, itself a gilded Explorer. An increasingly beleaguered Ford Motor Company hoped to give a much-needed sales boost to its ailing luxury brand, but Lincoln's Explorer sold little better than Mercury's version.
2004 Ford Explorer
The slow-selling two-door Sport wagon did not return for 2004. The Sport Trac pickup now offered automatic transmission only, but was otherwise unchanged. Among four-door Ford Explorers, the Advance Trac antiskid/traction-control system was now available for V6 models as well as V8s, and second-row bucket seats with a center console were a new option for the Eddie Bauer and Limited models.
2005 Ford Explorer
Ford Explorer four-doors mostly marked time for model-year 2005. The major change was making the worthy Advance Trac antiskid/traction-control system standard for all models. As before, it was integrated with Ford's Roll Stability Control airbag activation system. In one other notable change, Explorer's all-wheel drive was withdrawn, apparently for lack of sales interest. The Sport Trac put in a brief appearance without change. A redesigned replacement would bow as an early-2007 entry.
Ford moved with the market for 2005 by adding the Freestyle, a midsize "crossover" wagon with car-type unibody construction. Sharing a platform with Ford's new Five Hundred large sedan, the Freestyle was actually larger than the Explorer in some dimensions, but proved a weak competitor against more appealing import-brand crossovers.
2006 Ford Explorer
Highlighting the 2006 Ford Explorer line were updated styling, more V8 power, an available navigation system, and the return of standard seat-mounted front side airbags. A mild facelift provided a family resemblance with Ford's latest F-Series full-size pickups (redesigned for '05). Interiors also showed an F-Series influence with more-upscale trim and a redrawn instrument panel. A new convenience touch was a power-fold feature for the available third-row seat, optional for all but base XLS models.
A raft of internal changes lifted V8 horsepower by 53 to 292, and torque rose by 18 pound-feet to an even 300. The V8 now teamed with a new six-speed automatic transmission designed to offset the increased engine power with improved fuel efficiency in top-gear cruising. Explorer's V6 was unchanged and still tied to a five-speed automatic.
The newly optional navigation system mirrored designs at other automakers by using a dashboard screen to display map position and other travel data; the screen was also used to make various audio and climate adjustments. Satellite radio arrived as a late-season option, and 18-inch chrome wheels --the largest yet for Explorer -- were newly available for Eddie Bauer and Limited models.
2007 Ford Explorer
This year's main Explorer news was a retooled Sport Trac crew-cab pickup that shared a basic underskin design and many features with Explorer wagons. Starting sale early in calendar year 2006, the new Sport Trac emulated the 2001-2005 original in marrying a four-door five-passenger cabin with a 4x5-foot cargo bed, but the wheelbase added five inches to measure 130.5, and the overall length was 16 inches greater than Explorer wagons at 210.2 inches.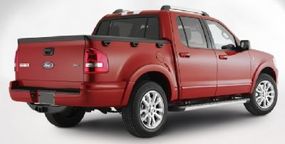 Among many features shared with wagons were an independent rear suspension, V6 and V8 powertrains, an available Control Trac four-wheel drive, antilock four-wheel disc brakes, an Advance Trac antiskid system, front side airbags, and optional curtain side airbags with rollover deployment. A standard power rear window returned, as did an optional frame bed extender and a lockable rigid bed cover. The cargo box itself was again rendered in dent-resistant composite plastic, but it now included three in-floor covered storage bins with drain holes.
The mainstay wagons carried on with few changes after their 2006 updates. Entry-level XLS models were dropped and two new options were added: an electrically heated windshield, available linewide, and power running-board side steps for Eddie Bauer and Limited models. The latter automatically moved in or out on opening or closing a door.
For advice, reviews, photos, prices, reliability trouble spots, and even examples of used cars you're considering that are on sale in your area, check out:
Get expert analysis of thousands of used cars over the past decade at Consumer Guide's Used Car Reviews.

You've found the vehicle you want to buy, but only a Vehicle History Report can tell you if the odometer is accurate, if it's received any safety recall repairs, and a host of other essential information.

The Ford Explorer has been a perennial among Consumer Guide's Best Buy and Recommended vehicles. Find out why, and learn about our other top new-car values.