1995, 1996, 1997, 1998, 1999, 2000, 2001 Ford Explorer
Success is seldom unchallenged for long in the auto business, which explains why the Ford Explorer was redesigned for 1995. Dimensions, general appearance, mechanicals, and other essentials hewed to the familiar winning formula, but styling was visibly fresh and there were several worthwhile new features.
An available V8 and other changes over the next six model years would help Explorer keep its title as America's favorite SUV despite aggressive new class competition. As it happened, the rival Chevrolet Blazer and GMC Jimmy were also redesigned for 1995, but these models suffered by comparison from slightly smaller size and a "truckier" nature. Import brands fielded their own new challengers, yet most buyers remained loyal to the Explorer. That was significant in light of the strong upsurge in demand for all SUVs in the late 1990s.
1995 Ford Explorer
The Ford Explorer greeted model-year 1995 with its first redesign. Some observers were surprised that this came just four years after the model's introduction, rather early by truck design standards. But Ford knew competitors were gunning for the nation's top-selling SUV, so an updating was needed to keep Explorer No. 1.
The updating was extensive. Both the two-door and volume-leading four-door (about 90 percent of Explorer sales) gained smoother styling that added about four inches to the overall length. A more telling sign that something new lurked within was that wheelbases were slightly altered to 101.7 inches for the two-door, 111.5 for the four-door.
The two-door Eddie Bauer models were dropped. Others returned with a 4.0-liter V6 claiming an extra five pound-feet of torque, 225 in all. And horsepower was now 160 regardless of transmission. In addition, the available four-speed automatic had electronic shift controls that allegedly improved its smoothness and efficiency. Also new was the available four-wheel-drive system.
Unlike the two previous setups it replaced, Ford's Control Trac allowed four-wheeling on dry pavement, not just slippery surfaces, and normally drove the rear wheels until they started to slip, in which case power would be redirected to the front wheels. A dashboard switch allowed locking in a four-wheel Low range for severe off-road situations. Standard four-wheel antilock brakes returned with rear discs replacing drum brakes. Last but not least, the dashboard was redesigned to incorporate standard dual front airbags, a boon for "passive" safety that belatedly answered some rivals.
The Ford Explorer had been a perennial Consumer Guide Best Buy pick. The 1995 models took home another ribbon -- with a few provisos. As the magazine noted: "Explorer earned its way to the top of the sport-utility field with its ability to double as roomy four-wheel-drive vehicle and upscale family wagon. The addition of dual airbags moves it ahead of the rival Chevrolet Blazer and Jeep Grand Cherokee, which have [only] a driver-side airbag. The new automatic four-wheel-drive system is a nice feature, though Jeep has offered full-time four-wheel drive for years. The [four-door] Explorer is more impressive than the [two-door] because its long wheelbase gives it a roomier interior and a more comfortable ride."
The publication went on to say: "Though Explorer's V6 doesn't have as much horsepower as the rivals at Jeep and General Motors, it produces lots of low-end torque and brisk acceleration. [But it] doesn't deliver good economy [and] seems loud and coarse when cold. Ford has plenty of competition...but the improvements to Explorer [for 1995] keep it at the front of the herd among sport-utility vehicles."
1996 Ford Explorer
Responding to competitive pressures -- and, doubtless, buyer requests -- the Ford Explorer added V8 power and all-wheel drive as exclusive options for 1996 four-door models. The V8 was Ford's long-serving 5.0-liter/302 cubic-inch overhead-valve engine, tuned here for 210 horsepower and 280 pound-feet of torque. That outmuscled the unchanged V6 by 50 horses and 55 pound-feet, enough to boost maximum towing capacity (with optional trailering package) from 5,000 to 6,500 pounds.
Sensibly, Ford offered the V8 only with the four-speed automatic transmission. The new AWD was also tied to the V8; V6 Explorers continued to offer optional Control Trac four-wheel drive. The AWD, which lacked low-range gearing, normally divided engine power 35/65 percent front/rear but could reapportion power to either axle as needed to restore traction. A final noteworthy change for both safety and convenience was an integrated child safety seat that folded out of the rear seatback; it was another new option for Explorer four-doors.
Seeking to extend Explorer's success, Ford Motor Company's Mercury brand began selling a retrimmed, upscale V8 Explorer four-door during 1996. Called Mountaineer, and available with rear drive and AWD, it was a slow seller, likely due to higher prices and a close visual similarity to the parent Ford.
1997 Ford Explorer
Still aiming to stay ahead of rival SUVs, the Ford Explorer sought broader market appeal for 1997 by offering a new overhead-cam V6 engine, a five-speed automatic transmission, and an electronic transfer case. The 4.0-liter ohc engine shared its cylinder block with the familiar 4.0 overhead-valve V6 but differed in most all other respects. It was also more potent, producing 205 horsepower and 245 pound-feet of torque, up 45 and 20, respectively.
The "cammer" V6 was the new standard engine for four-door Eddie Bauer and Limited models, optional for all other Explorers. Tied to it was the new five-speed automatic, which did not require fluid changes under normal conditions, according to Ford. This transmission was also optional with the ohv V6. Explorer V8 models retained a mandatory four-speed automatic.
The new electronic transfer case increased flexibility of the Control Trac four-wheel drive available for V6 models. Like the previous setup, it could direct engine power to the axle with greater grip, but offered an "Auto 4WD" mode with a 10/90 percent front/rear power split and a separate four-wheel High mode for locking in a 50/50 ratio. Separate low-range gearing continued, as did the ability to use four-wheel High on dry pavement.
To no one's surprise, this year saw Ford apply the Explorer formula to a full-size SUV. Based on Ford's popular F-Series pickup, the new Expedition quickly was a big hit, taking less than a year to outsell its Chevrolet and GMC rivals combined.
1998 Ford Explorer
After seeing major changes over three busy model years, the Ford Explorer underwent detail improvements for 1998. The Explorer still offered one of the few two-door SUVs, but they were increasingly tough to sell in a market where four-doors ruled. Accordingly, Ford axed two-door XLs this year, leaving a pair Sport-trim models.
All 1998 Explorers gained a standard antitheft system, plus "depowered" front airbags designed to deploy with less force. The latter responded to a possible new federal standard that took note of a rise in reported airbag injuries to shorter-stature drivers and to children sitting in the right-front seat. Lesser changes included restyled taillamps and rear bumper, a deeper liftgate window, new audio systems, and available steering-wheel-mounted audio and climate controls for top-line Limited and some Eddie Bauer four-doors.
Consumer Guide noted that Explorers were finally being discounted due to a slight softening in demand. Even so, Ford was still grabbing one of every four sales among midsize SUVs. The Explorer got more competition in this year in the Dodge Durango, the first midsize SUV from that rival brand and based on its Dakota pickup truck. The Durango had its attractions but proved no sales threat to Explorer.
1999 Ford Explorer
Available front side airbags headlined 1999 Ford Explorer news. Optional for all models, the side airbags mounted in the outboard bolsters of the front seatbacks and were designed to protect occupants in a side impact.
Also new was a Reverse Sensing System, an option for all but XL models. This used radar-like sensors in the rear bumper to sound an audible warning when the vehicle backed up to within six feet of an object. This was an asset for high-riding SUVs that made it difficult for even tall drivers to see the ground around the vehicle. It was especially valuable for preventing unintended injuries to children who might lurk in the perimeter blind spot.
Both these features were not unique to Explorer -- other SUVs were adding them, too -- but they were timely. Curiously, however, the optional integrated rear child seat was withdrawn.
All 1999 Explorers gained huskier-looking front bumpers and detail trim changes. Limiteds had more wood-look interior trim and standard 16-inch wheels. Both Limiteds and Eddie Bauers now came with lighted running-board side steps, and a rear load-leveling suspension was a new option for those models and the volume-selling XLTs. XL models offered a new XLS option group that bundled power windows/locks/mirrors with all-terrain tires on chrome-plated wheels, side steps and roof rack.
2000 Ford Explorer
Aside from some early 2001-model announcements in January 2000, this was a quiet model year for the Ford Explorer -- at least as far as product developments. Four-door XL models were retitled XLS and added the power windows/locks/mirrors of the 1999 XLS option package. Most everything else carried over.
The Explorer gained a big new brother this model year. Based on Ford's Super Duty truck chassis, the Excursion was the largest mainstream SUV yet -- longer, taller and heavier than the Expedition and full-size General Motors SUVs. Even the vaunted military-style Hummer H1 cowered in its shadow. The Excursion drew much criticism from environmentalists and others for its jumbo size and excessive fuel thirst and was evidently too much for most buyers, as sales never came close to expectations. Excursion would be dropped after 2005.
Meanwhile, in the first of several setbacks that would shake Ford Motor Company to its core, the cash-cow Explorer and its original-equipment Firestone tires were implicated in this year in rollover crashes linked to almost 300 deaths and scores of injuries. Ford and Firestone executives blamed each other in the media and before Congressional investigators until Ford decided to pay $3.5 billion to replace some 6.5 million tires. It was the right thing to do, but months of damning publicity took a toll on Explorer sales and on Ford's public image.
2001 Ford Explorer
A facelifted two-door and the addition of a third body style headed 2001 Ford Explorer news. Arriving in January 2000 was the Explorer Sport Trac, a four-door "crew cab" pickup with a wagon-type passenger cell and an open cargo box. Compared to four-door Explorers, the Sport Trac was 14 inches longer in wheelbase at 125.9 and 15 inches longer overall at nearly 210.
Replacing the wagon's enclosed cargo area was a four-foot-long bed with a drop-down tailgate. The box had flared fenders and was made of body-colored composite plastic. An optional pivoting tubular cage effectively extended the bed length by 23 inches with the tailgate down and could be used to secure objects with the gate closed. The bed was fitted with a black molded-in liner and a weatherproof 12-volt powerpoint. An optional two-piece locking hard tonneau cover was available.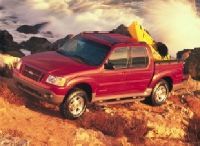 Inside, Sport Trac featured exclusive low-back front bucket seats, a removable soft-sided pouch doubling as center-console storage, and a split-folding three-passenger rear bench seat. Also standard was a power rear cab window with an electric defroster. Twisting a dashboard knob moved it fully up and down, and tapping the knob dropped the glass 1.5 inches for ventilation.
Bowing with Sport Trac was an updated two-door wagon called Explorer Sport, sharing the same new front-end appearance. White-faced gauges were an exclusive feature. Both new models offered a single trim level that mandated the overhead-cam V6 and a five-speed automatic transmission. V8 power was unavailable, but buyers could choose rear- or four-wheel drive.
Explorer four-door wagons were basically unchanged for 2001. They were on a short model year pending early release of redesigned 2002 versions.
Meanwhile, Ford further expanded its SUV lineup with the compact Escape, a four-door unibody wagon prompted by strong demand for the similar Honda CR-V and Toyota RAV4. Also sold by Ford's Japanese affiliate as the Mazda Tribute, the Escape was the complete opposite of the outsize Excursion, and it earned high marks from critics and buyers alike.
Consumer Guide immediately gave it a strong Recommended endorsement as "substantial feeling, roomy, comfortable, and even fun to drive." Though not designed for off-roading, the American-built Escape/Tribute were, as CG noted, "eminently sensible alternatives to any number of midsize SUVs, especially truck-based wagons that are less efficient in their use of space and fuel." Which meant wagons like the four-door Explorer. So was Ford now competing with itself? Not really. It was just catering to a new buyer group seeking SUV style and practicality in a thriftier, tidier, lower-cost package.
To read about reliability ratings and safety recalls for the 1995, 1996, 1997, 1998, 1999, 2000, and 2001 Ford Explorer, see the next page.
For advice, reviews, photos, prices, reliability trouble spots, and even examples of used cars you're considering that are on sale in your area, check out:
Get expert analysis of thousands of used cars over the past decade at Consumer Guide's Used Car Reviews.

You've found the vehicle you want to buy, but only a Vehicle History Report can tell you if the odometer is accurate, if it's received any safety recall repairs, and a host of other essential information.

The Ford Explorer has been a perennial among Consumer Guide's Best Buy and Recommended vehicles. Find out why, and learn about our other top new-car values.